Welcome to our Animal Pak review.
The company known as Animal Pak was founded in 1977 and one of their most popular products was the bodybuilding multivitamin also called Animal Pak.
This product was one of the original supplements from when bodybuilding first came on the scene and is one of the best known multivitamins used in bodybuilding.
In this review, we will focus on the multivitamin to establish why is Animal Pak so popular.
Our review looks at how effective this product is and you can then decide whether it's worth your money!
Animal Pak Key Features
Made for bodybuilders and powerlifters
60 key ingredients
11 tablets per pack
Used by Mr Olympia competitors
Available in powder form
$30.95
Multivitamin
amino acid
antioxidants
performance complex
digestive enzymes.
What Is Animal Pak?
Animal Pak is a multivitamin supplement that helps athletes build their muscles and increase their energy levels. It contains a whole host of nutrients such as minerals, amino acids, antioxidants which are for immune system support, liver support, and other benefits. It comes in flavors such as orange, cherry berry, and green apple.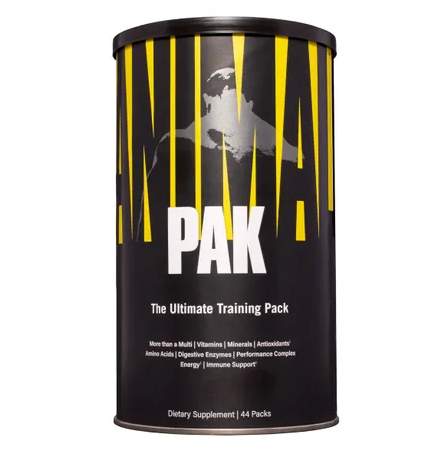 Animal Pak has been rebranded a few times and for those who've used the products for many years, the new pills look different. That's because when Animal Pak, the company behind this, launched the new re-formulation of Animal Pak in 2020, they added new tableting technology that compresses the pills more efficiently, which can change color and appearance of them when they add ingredients that have varying color profiles.
When you're bodybuilding or undertaking serious fitness training, you need nutrients that a regular multivitamin may not provide.
When you're training hard, any slight nutrient deficiency will be noticeable either in your recovery, your energy levels, or your ability to build muscle.  Animal Pak is meant to be a superior multivitamin that solve this problem by providing you with all the vital nutrients you need.
The company behind Animal Pak is Universal Nutrition, which was established in the United States with a focus on the sports industry. The name "Animal Pak" can also be used to refer to a line of products (to which the Animal Pak Supplement belongs to) offered by Universal Nutrition, the other line of products being simply called "Universal."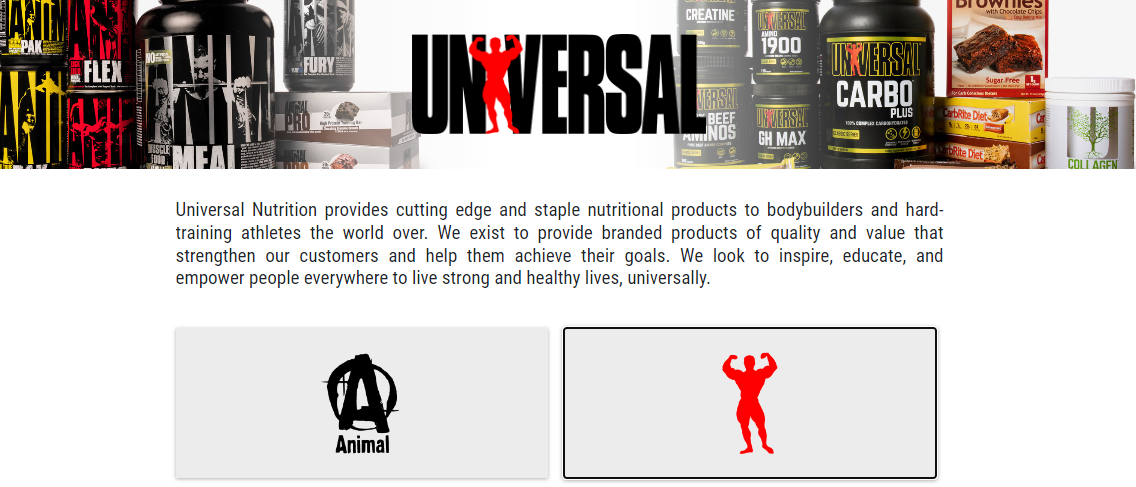 Going back to the supplement called Animal Pak, note that it can be used by anyone whose fitness regime requires additional nutrition.
The History Behind Animal Pak
Animal Pak has been around since 1983 when the supplement industry was in its infancy. It was developed to "cover the wide backs of the hardest and heaviest trainers on the planet Earth." The "Ultimate Training Pack" was seen as not just a multivitamin because it gave bodybuilders and powerlifters a foundation upon which to build their nutritional regimens.
Animal Pak was granted the Multivitamin of the Year award from 2005 to 2010 by a website known as BodyBuilding.com.
Universal Nutrition claims that the product is made to support bodybuilders and athletes with their diet and to prove its efficacy, it has been used by Mr Olympia athletes since 1983.
What Are The Animal Pak Ingredients?
Animal Pak has 5 major ingredients: amino acids, ginseng, grape seed extract, vitamins A and D, and Chromium. Each of them affects the growth of muscles and performance of the user during bodybuilding and workouts.
Image source: Animal Pak website
Animal Pak has a pine bark called Pinus maritima/pinaster. It also doesn't have added caffeine but there is no more than 10mg of naturally occurring caffeine per serving in Animal Pak.
Chromium
Chromium in the supplement serves to regulate weight loss, aid muscle gain, improve heart health, among other uses. It is an essential trace element because of the functions it serves when it comes to human health.
Amino Acids
20% of the body is made of protein and amino acids are the building blocks of protein. Amino acids are the links that form the chains that are proteins. Due the muscle's protein composition, they are important for those who are training or bodybuilding.
Vitamins A and D
Animal Pak Vitamins A and D go hand in hand because they are both used for bone protection. Good bone health requires a good contribution from both ingredients. The more muscle you put on, the the stronger your bones should be to support it. Vitamin A is particularly vital to immune function.
The Question of "Proprietary Blends"
Many a dietary supplement aren't inspected by the FDA. Therefore, most of the companies that make supplements mention many ingredients on the label but put subpar fillers in their product to save money. Technically the ingredient profile is as advertised but the product is mediocre. Animal Pak has had various third party laboratories verify the veracity of their ingredients. Animal Pak does not have "proprietary blends" which most companies use to sneak in unhelpful ingredients in their products.
For example, a company may have a "proprietary blend," that hides how much of each ingredient they have. Therefore, they could say their "proprietary blend" has 7 different ingredients, but have a vast majority of it being the cheapest ingredient and tiny doses for all the others.
Animal Pak goes through the trouble of indicating exactly how much of each ingredient they've got in their multivitamin, so you know exactly what you're getting.
Other Ingredients
Animal Pak is known for boosting performance in the gym because it boosts testosterone, increases strength, and drastically improves your energy levels. For the athletes that are looking to break personal records, those tiny increments are everything. Therefore, they could use what Animal Pak has to offer.
Other ingredients in Animal Pak include Zinc, Uni-Liver, folic acid, ascorbic acid, Selenium, and Oriental Ginseng.
The muscle building ingredients in Animal Pak have been linked to higher testosterone. They are at the same time essential nutrients your body needs. In addition to the increase in testosterone, these also lead to better focus, and even more strength. Another benefit of taking Animal Pak by Universal Nutrition is the increase energy.
Antioxidants and Vitamin E help protect your cells.
Zinc and Magnesium boosts your immune system.
Liver and beef contains iron which helps fight fatigue
Vitamin C helps grow, repair, and develop body tissue.
Digestive enzymes aid digestion and absorption of food.
Vitamin B complex forms red blood cells and supports the immune system.
Ingredients in Animal Pak like Carnitine, Alpha Lipoic Acid (ALA), Co-Enzyme Q10 (CoQ10), and Pyridoxine AKG (Vitamin B6) are known to improve brain health, which enhances your focus and energy levels.
How Does Animal Pak Work?
Animal Pak was meant to create an environment where the body operates at its optimal level. According to the manufacturers, if you stop using it, nutritional gaps form and your body can shut down the anabolic drive needed to build muscle to support more critical metabolic processes.
Each pack has over 60 key ingredients and each of the 11 tablets included in each pack is specifically formulated to deliver ample doses of vitamins, minerals, amino acids, herbs and other performance optimizers designed to stand up to the most intense training and rigorous dieting.
Since this product has two types of amino acids, users can rely on the supplements to build lean muscle mass and repair their muscles.
Animal Pak also suggests that taking these pill packs will improve the user's stamina and increase the production of fats needed during physical exercise.
If your diet lacks the nutrients your body needs, the supplements you take will not have the intended effect. Animal Pak tries to solve this problem by giving you the nutrition to prime your body for optimal performance.
In addition to that, the amino acids can also help in the recovery of the muscles after a workout, strengthen immunity, and manage fatigue.
The supplements will not have the intended effect if used inappropriately and you should follow the recommended dosage to see the best results.
Universal Nutrition says that the ideal time to take one pack of the product is before the workout. The user should drink the pack 30 minutes before the pre-workout meal. You can take 2 packs but according to the company, it won't be necessary.
Since Animal Pak is a multivitamin supplement, can it make you fat?
The product has at least 5 grams of carbohydrates and 5 grams of proteins per serving. The total calories the product has is not enough to increase your weight unless you change your diet to eat more calories.
Animal Pak reminds you that regular exercise is required to prevent an increase in fat while taking the multivitamins. That being said, if you take too much of it and fail to work out, there might be slight changes in the scale.
Speaking of supplements, we have also done reviews of other health products like TruVision and Burn TS that you might want to take a look at.
Animal Pak use among Bodybuilders and Powerlifters
Animal Pak is specifically formulated for bodybuilders because it is packed with nutrients to help your muscles grow. Bodybuilders and powerlifters have higher nutritional requirements than regular athletes due to the intensity and frequency of their training programs. These unique needs are greatly increased for bodybuilders who regularly compete and need to diet down. During calorie-restricted diets, the potential for nutritional deficiencies goes up. These nutritional gaps not only affect performance and size, but they begin to impact the way other supplements work.
Studies have revealed that 100% of Olympic weightlifters and over 90% of competitive male and female bodybuilders use a vitamin/mineral supplement like Animal Pak. Many supplements need enzymes and other substances to "activate" them and with poor nutrition you have poor conversion and activation of these supplements. Animal Pak prevents this by providing everything you need and a few extras thus creating an anabolic internal environment for muscle growth.
How should you take Animal Pak?
1 pack of Animal Pak contains 11 tablets. It is recommended that you take 1 to 2 packs with breakfast or any other meal, with plenty of water (one pack works for most people). If you are competing or training with higher intensity, you should take two packs, one in the morning and another at night.
What can I stack Animal Pak with?
Animal Pak is a baseline to any stack and can be stacked with any other supplement that you are taking for your everyday needs.
Who owns Animal Pak?
Animal Pak belongs to the company known as Universal Nutrition. Universal Nutrition was established in Linden, New Jersey, USA in 1977 before it moved to New Brunswick, NJ. When it was launched, it operated off of a small manufacturing factory in Linden, fifteen minutes away from John Carroll Grimek's birthplace in Perth Amboy. It was started by a family that was passionate about creating a great product for its clients. It still is a privately held company today that is owned and operated by that family.
Among the first sports nutrition products they launched was a milk and egg protein and desiccated liver. Back then products were not RTD (ready to drink) and were manufactured in cans. In 1983, Universal invented the "pack" system for delivering their supplements to elite athletes in Animal Pak, "The Ultimate Training Pack." Animal Pak has remained the true original even today.
After the introduction of Animal Pak, The company released other products such as Animal Stak and Animal Cuts.
In 1997, Univeral launched Universal Matters, a magazine that had articles on training, diet and nutrition. They mailed it to fans free of charge. In 2010, they hosted the first Universal Bodybuilding Camp (UBC), a free, day long camp offered to anyone who wants to train with and learn from established strength athletes, past and present.
Is Animal Pak Safe?
Animal Pak is safe. According to Univeral, Animal Pak formulations are backed by science and proven by third-party lab testing in pharmaceutical grade facilities. The animal products they use are produced in a GMP certified facility, in the USA where they strive to attain quality, safety, and potency standards.
That being said, the formula used to create Animal Pak has not undergone rigorous clinical studies. However, if the individual ingredients were taken into consideration, each of them has positive effects on erectile dysfunction, heart health, and mental health according to the University of Maryland Medical Center.
Animal Pak Side Effects
Besides positive effects, those ingredients have potential side effects as well. For instance, too much vitamin A can cause vomiting, bleeding of gums, headache, diarrhea, and double vision.
Thiamine can cause a mild rash, chest pain, nausea, and shortness of breath. In general, when you take Animal Pak, you may experience nausea, airway inflammation, abdominal pain, diarrhea, or gout.
This product is not intended for people who want to lose weight (particularly those who don't exercise) since it supports muscle repair and growth.
It can't be taken by pregnant women or breastfeeding moms. This is not unique to the supplement because mothers are generally advised to not take anything they are not sure of to avoid the incidences of birth defects or reproductive harm. You should also avoid taking it without talking to a doctor if you have any disease or health condition. To be 100% sure of the safety, you should ask for a doctor's recommendation. Before you take Animal Pak, read the product warnings first.
Can Animal Pak Help with Weight Loss?
Animal Pak has the ingredients that bodybuilders need to get the most out of workouts. It has more than 50 key ingredients and they are said to be used to support a bodybuilder and aid muscle gain. Animal Pak does not help with weight loss or burning fat because you have to engage in exercise to make the most out of it. If you just take it without exercising, it could increase your calorie intake but not by much.
Each serving has 5 grams of carbohydrates and 5 grams of protein. Therefore, the calories are not enough to make you fat unless you extrapolate your diet and consume more calories throughout the day than the body needs.
If you are engaged in physical activity regularly, you do not have to worry about gaining weight when taking Animal Pak. But if you take it and live a sedentary life, it could tilt the scales but not by much.
Animal Pak Reviews
Most of the reviews of Animal Pak come from people who are involved in physically demanding sports such as bodybuilding, football, diving, and more.
They all claim to feel physically stronger, more energized and healthier when they take Animal Pak and many have been using the product for years.
It is important to note that when they stopped taking the product, some users reported feeling like their body was 'broken'. This could be the reason why many people who use the product seem to be long term users.
The reviews done on the Animal Pak website show that it has 4.9 out of 5 stars.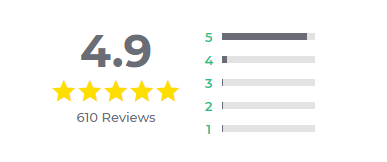 Here are some of the reviews from people who are verified buyers:




There were some negative ones and they were mostly to do with packages that had not been received.

And the company replied with the following, showing that they had taken care of that:


You should be careful when reading reviews published by the manufacturer because they can choose to only show the reviews that reflect favorably on their products as opposed to what their products are actually like.
Animal Pak Controversy
Universal Nutrition has not avoided controversy in its decades of existence. For example, a state judgment was released in December 2016 in which the state government approved a settlement for a lawsuit filed in March 2016.
The lawsuit filled against Universal Nutrition, which makes Animal Pak, put to question claims that the supplement is made in the US but contains foreign ingredients. The company was forced to remove labels reading "proudly made in the US" and the court ordered the firm to refund many customers who purchased the product.
Price
15 packs = $16.99
30 packs = £25.95
44 packs = $30.95
Where can you buy Animal Pak?
You can buy Animal Pak on the official website. It is also available in retail stores, online stores, and company sales partners. Some of the websites where you can buy Animal Pak are Bodybuilding.com, Vitamin Shoppe, Amazon, and Allstarhealth.com.
Pros of Animal Pak
It offers convenience because each dose of Animal Pak is in an individual pack that you can throw in your gym bag. It is not a powder (powder-based dietary supplements are prone to spilling and clumping)
The way it is made adheres to quality and safety standards. The products are made in a GMP certified US plant, and each batch is tested in a third party lab for quality, safety and potency
Animal Pak fills nutritional gaps and strengthens your body's foundation to help optimize your physical and mental wellness and fitness goals. It is used by many athletes as the base of their exercise or nutrition program.
It contains multiple vitamins, minerals, amino acids, antioxidants, digestive enzymes, carnitine, and much more. Animal Pak is a potent bodybuilding supplement and the cornerstone for many athletes' nutrition plans.
It has been trusted by performance athletes for more than four decades and is widely considered the cornerstone of any serious athlete's supplement stack. It is family-owned and has been shown to push sports nutrition forward. That is how it earned the trust of strength and performance athletes who know.
Cons of Animal Pak
Some customers have complained about the Animal Pak packaging. The supplement comes in pills form, and the athlete must take around 11 pills at the same time. Sometimes, the pack has fewer pills than what's indicated on the labelling. To ease these complaints, Universal Nutrition now makes Animal Pak available in powder form.
Animal Pak is out of reach for some athletes price-wise. It is a bit too expensive for some people and for them, they can seek alternatives.
There are potential side effects if you take the supplement because you could be allergic to one of the ingredients or it could react badly with something else you are taking. Therefore, always seek your doctor's advise if you encounter any unwanted effects.
The sheer number of pills you have to take is too large. It can be an inconvenience especially if you prefer your supplements in powder form.
There is no rigorous study into the effects of the supplement. While it is made safely and has been used by many athletes for many years, its credibility could benefit from rigorous study.
Universal Nutrition has been accused of false advertising and even been taken to court and settled. While that doesn't mean that the products are bad, it calls to question how beneficial the supplements they make are.
Our Verdict
Not all multivitamins are created equally. You need different ingredients depending on your nutritional needs and the level and intensity of your physical workouts.
Universal Nutrition Animal Pak has been proven over decades to provide the nutrition that your body needs as the building blocks when trying to build muscle and repair.
Animal Pak has a large number of positive reviews from long term users of the product.  It does cost more than your average multivitamin, but provides superior nutrition for when you're training hard.
Among other things, Animal Pak as a brand is credible, it has a decent nutrient profile, and (to some), it is a cost effective multivitamin. It is also significant that the Animal Pak brand has been around since 1977, which means that they have a good reputation among bodybuilders. Many companies in the supplement industry come and go after operating for a few years, so anything that's lasted decades is doing something right.