Looking for Relief Factor reviews?
Relief Factor is said to be a 100% drug-free product that is used to relieve pain and inflammations.
Joint pain and inflammations are a common health problem that affects many people.
They occur due to ageing, exercise and through everyday living and are often a result of joint arthritis, which is pain from inside the joint.
If you suffer from inflammation then you probably experience joint stiffness, swelling and joint pain.
This can have a massive effect on your life.  It can not only limit what activities you can do during the day but also affect your sleep by causing a high level of discomfort.
Relief Factor claims to solve the problem of pain and inflammation by reducing it over time, but does it really work?
This Relief Factor review looks into those claims and how the product could potentially help you.
Here is everything we will cover inside this review:
Key Claims
Reduces Body Inflammation
Lowers or Eliminates Pain
Supports Healthy Joints & Muscles
Decreases Discomfort
Relief Factor Key Features:
Pain relief supplement
Relief Factor is made using only botanical ingredients and Omega 3 oil.
Resveratrol, Icariin, Turmeric, and Omega 3 are the combination used in Relief Factor.
100% Drug Free.
Improves the overall ability of the body to fight against pain and inflammation.
Manufactured in US under the guidelines of FDA's Current Good Manufacturing Practices (CGMP).
Softgels or Capsules
Gluten Free
What Is Relief Factor?
Relief Factor is a supplement designed to solve one of the most common reasons people visit their doctors; pain.
Relief Factor is said to have helped tens of thousands of people struggling with everyday aches and pains.
Pain that comes with everyday life, the ageing process, and exercise can affect your joints, muscle aches, back, shoulder, neck, and knees.
Relief Factor was designed to relieve this pain.
It was introduced to the market in 2015 and the company behind it has gone on to become one of America's fastest growing companies.
It was included in the Inc. 5000 2019 at #682 with 2018 revenues of $17.3 million.
Relief Factor is clearly a successful pain relief supplement and according to the founders, 70% of customers that purchase the initial '3 week quickstart' go on to order more.
What is Joint Pain?
Joint pain is common in older adults worldwide and is one of the most common problems experienced by adults in America. One of the main culprits of joint pain is arthritis.
It is thought that 1 in 3 adults experiences joint pain and according to the CDC (Centre for Disease Control and Prevention) 1 in 4 Americans with arthritis experience severe joint pain.
The most common types of joint pain are knee pain, hip pain and shoulder pain. If you experience joint pain or have a family member suffering, you will be aware of how much it can restrict your life.
Many people have always assumed that joint pain is a part of life and growing old.  However there is growing research to suggest it could be caused by a number of factors.
Diet is thought to be a contributing factor to arthritis and inflammation.   So eating sugary foods, saturated fats and alcohol can all contribute towards arthritis and pain in joints.
There is also a link between weight gain and obesity and joint pain with more obese people reporting that they've been experiencing joint pain.
More and more people are looking to buy joint pain relief supplements.  While joint pain supplements may work, it may be worth taking a look at your diet to see if you can cut back on foods that may be causing the pain.
What is Chronic Pain?
Chronic or persistent pain is pain that you experience for more than 12 weeks despite treatment. Normally following an injury or operation, the pain goes away after a while but sometimes, it carries on for longer or comes on without any history of an injury or operation. That's what you call chronic pain.
Acute Pain, on the other hand, happens suddenly, starts out sharp or intense, and serves as a warning sign of disease or threat to the body. It is caused by injury, surgery, illness, trauma, or painful medical procedures.
What Is The 3 Week Quickstart?
The 3 week quickstart is designed as a way for you to try the product to see if it gets you results without a full commitment.
This program exposes you ingredients that may potentially help support certain pathways in the body that are associated with pain and inflammation.
The goal is to find your "right" dosage and it all starts with three packets a day. If the discomfort subsides, you can reduce that dosage to two packets a day.
Once the 3 week period ends you will receive a full months supply of Relief Factor.
This is a clever marketing tactic to help get customers to commit, but also seems flexible because you can cancel before the end of the 3 week quickstart period. This will stop you being billed for a full months supply.
Let's now take a look at how the product works and what ingredients it contains.
How Much Does Relief Factor Cost?
The 3 Week Quickstart costs $19.95 and through it, you can try Relief Factor for three weeks. After those three weeks, it automatically renews at $79.95 monthly until cancelled. You can order the supplement on Relief Factor's website.
Promedev LLC, the manufacturer, also makes Relief Factor Calm, a supplement promoting stress relief and better sleep and Relief Factor Energy, which provides heightened energy, focus, and circulatory function.
How Does Relief Factor Work?
Relief Factor has 4 natural ingredients. It has a unique combination of botanical ingredients and fish oil.
Taken regularly as part of your overall health plan is expected to reduce your joint and muscle pain.
The Relief Factor supplement supports natural recovery by stimulating essential metabolic pathways that have a direct influence on pain and discomfort.
On top of that, its anti-inflammatory and anti-oxidant tendencies are supposed to be strong enough to overcome soreness and inflammation.
What Are The Relief Factor Ingredients?
Most medications people take to relieve pain are designed to provide temporary relief and they stop working after a couple of hours.
Source: Relief Factor Official Site
Relief Factor allegedly supports your body's natural healing processes instead courtesy of its four key ingredients. The 100% Drug Free Relief Factor is said to activates four different metabolic pathways to help your body reduce or eliminate pain and inflammation.
Relief factor's ingredients also offer some decent joint health benefits besides the aforementioned ones.
Let's take a look at the ingredients in Relief Factor.
Resveratrol
Resveratrol is a substance found in red grapes, berries and peanuts. It is a free-radical neutralizer that supports the body's normal and natural vascular response and supports blood vessel health.
Studies have shown it can help in the prevention of cancer cells. In some cases, where the dosage is more then 1.5g per day it can even kill cancer cells.
Not only that, it helps in anti-inflammation and promotes a healthy response to biological stress.
It mitigates clots in the blood vessels thus drastically reducing the risk of heart disease and other diseases that are life threatening.
Icariin:
Icariin is an active Flavonoid from the horny goat weed. It has a variety of health benefits.
Icariin helps maintain optimal production of nitric oxide to support blood flow while promoting tissue health.
It may support the natural response to everyday wear and tear by affecting the genetic expression of key enzymes (although that has not been evaluated by the FDA).
In addition to that, it is said to be a libido enhancer that improves sexual function in men.
Other common benefits are that it is anti-inflammatory, anti-oxidant, anti-tumor. On top of that, it helps strengthen bones.
It improves your overall health, reduces pain, and increases the body's ability to fight inflammations.
Turmeric:
Relief Factor has tumeric as one of its component. Curcumins are a great anti-oxidant.
Turmeric is widely used as a home remedy for many conditions. It's active ingredient is known as Curcumin.
Curcumin acts as anti inflammatory, prevents heart disease and cancer.
Other common benefits includes pain relief and reducing the effects of arthritis and depression.
Curcumin phytosome in Relief Factor is meant for enhanced absorption and bioavailability. Offers support for the body's natural and healthy response to overexertion that can cause minor, but temporary discomfort.
It can potentially support the balanced activities of multiple enzyme systems.
Omega 3:
Omega 3 is an important fat that helps human body to develop immunity against depression and heart disease. Likewise, it helps in preventing anxiety.
Highly concentrated EPA/DHA supports the maintenance of healthy tissues and the normal expression of genes involved in the body's balanced immune response. It also promotes the body's natural healing abilities.
DHA is a major component in the eye's retina and Omega 3 is rich in DHA, it improves eye health. Therefore, taking sufficient DHA can potentially reduce the risk of eye-related diseases.
Omega 3 is also great for pregnant ladies because it helps in the brain development of the child in the womb.
It drastically reduces the risks of a baby having ADHD and Autism.
Is Relief Factor Safe?
Relief Factor is made up of botanical ingredients and fish oil. These natural ingredients tend to be safe and the product is manufactured under the guidelines of FDA.
Relief Factor was created by physicians and has now gained trust from many people to provide ongoing relief from their pain in their back, neck, shoulder, hip and knees. It also takes care of general muscle aches and pains.
The primary objective of this supplement is to provide the much needed ability of your body fighting against inflammation and muscle pain.
The ingredients (and their medicinal properties) in this supplement are relatively safe but that does not mean that they cannot have adverse effects on you. Therefore, if you are unsure if it is safe for you, consult a medical professional.
Side Effects of Relief Factor
Side effects are reportedly rare for Relief Factor but there have been reports of people suffering from them. Some of the side effects mentioned by Relief Factor on their website include:
Stomach Upsets
Dry  mouth
dizziness
Nosebleeds
The company has been really helpful in pointing these side effects out because you have a clue as to what you should look out for and what negative impacts you can attribute to taking the supplement.
Side effects also tend to occur when you first start taking the supplement, if you are not used to taking supplements.
Relief Factor recommends that probiotics may help with the upset stomach.
Customer Reviews of Relief Factor
Relief Factor is only available on their website and not on most ecommerce sites, so it is relatively hard to find a non-biased review of the product.
There are customer reviews on the Relief Factor website and these are generally positive about Relief Factor.
These users all claim to have an improved quality of life with their pain either reducing or completely disappearing.
It's hard to determine how legitimate these user accounts are, but we have not found any critical Relief Factor reviews or the company.
WebMD
Webmd, which offers credible and in-depth medical news, features, reference material, and online community programs, does not dismiss nutritional supplements. It concluded that quality supplements do offer a boost in health and provide that extra relief you may need.
Webmd acknowledges that some of the ingredients in Relief Factor, such as turmeric and fish oil, have pain-relieving effects.
Mayo Clinic
Mayo Clinic is on the fence about joint-related supplements to which Relief Factor belongs to. It is neutral while claiming that no supplement replaces a balanced diet or professional treatment plan.
It does acknowledge that turmeric's anti-inflammatory properties may relieve arthritis pain.
"Turmeric's main active component — curcumin — is what gives the spice its yellow color. Curcumin has anti-inflammatory properties, making it a potential treatment for a number of health conditions, including reduced pain and increased ease of movement in people with osteoarthritis. One study found that taking turmeric extract three times daily was comparable to taking a 1,200-milligram dose of ibuprofen daily. However, more research is necessary to confirm these effects.

Other research suggests that curcumin may reduce cholesterol and triglyceride levels. In addition, it may lessen some of the symptoms of rheumatoid arthritis, such as joint swelling and morning stiffness."
Mayo Clinic favors specialized treatment for arthritis and joint pain although they acknowledge that taking prescribed drugs or painkillers can take a toll on some body organs.
Other Online Reviews
Relief factor reviews (2022) on most forums are mixed. Some people claim that Relief Factor is an absolute scam and a waste of money. The main gripe is that the supplement is overpriced and is not as effective.
Some are critical of the 'three-week kick start' program saying that it is some sort of a trap where the company ropes you in with the $19.95 price just to tie you down with the $70 per month fee.
Who Is Behind Relief Factor?
Relief Factor was created by a father and son team, Pete and Seth Talbot.
The product website has a video of the two of them discussing how they created Relief Factor and it's purpose.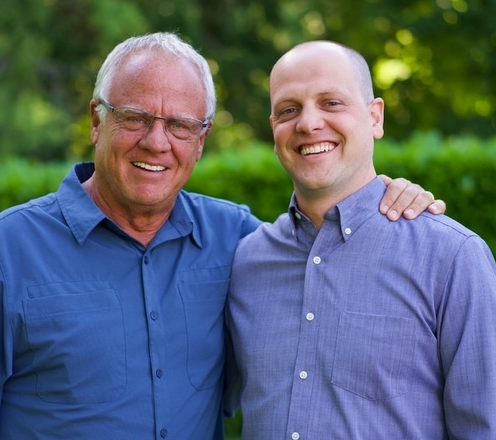 According to Seth's LinkedIn page, he describes himself as a serial entrepreneur and has been the CEO or founder of a number of companies.
He was named by the Puget Sound Business Journal as one of the '40 under 40′ most innovative business leaders in 2012.
So we've established their business credentials, but what do they know about health and pain relief?
Well according to Pete and Seth, Relief Factor is created by doctors so it looks like the Talbot's take care of the business side of things.
Relief Factor Controversy
Regarding the actual product, there have been no negative press.
However, something that will have come to many peoples attention would be that a former Donald Trump National Security advisor, Sebastien Gorka, was promoting the product.
Why was this in the news?
Well, when promoting the product Gorka was introduced as 'Dr. Sebastien Gorka' due to his Phd and not because he is a medical doctor (MD).
The Centre for Science in the Public Interest has asked the FTC (Federal Trade Commission) to take action against Relief Factor because Gorka is being passed off as a doctor.
They say this is misleading to consumers as Gorka does not hold a medical degree.
FTC rules state that if an advertisement passes off an endorser as an expert then they must have actual expertise in a relevant field and make clear the nature and limits of their expertise.
At the time of writing this update (16th September 2019) there has been no further action towards Relief Factor.
Drawbacks of Relief Factor
However, turmeric is a "joint-friendly" spice that enhances health and relieves its pain but the body naturally cannot absorb turmeric unless it is paired with something like black pepper to enhance its bioavailability.
Curcumin requires piperine in black pepper to generate the needed joint-boosting and pain-relieving effects. Therefore, without something like piperine, Relief Factor may not be as effective as it needs to.
Verdict on Relief Factor
Countless supplements are launched in the market everyday.
Not all are effective and safe and it can be a bit challenging for patients to find something that works but doesn't harm them.
One thing that Relief Factor has going for it is that the quality of the ingredients and the hygiene parameters in the manufacturing facility are of a high standard.
The human body has the potential and immunity against muscle pain and body pains.  Despite this pain can sometimes be overwhelming and the body's natural response may need a boost. That's where a product like Relief Factor comes in because it enhances the natural response with its natural ingredients.
Relief Factor is a credible product that has worked for some people and can be said to be relatively safe. That being said, if in doubt concerning how Relief Factor works, you should consult your physician before you start taking the dose.
Other Health Supplements We Have Reviewed
FAQ
What Is Relief Factor?
Relief Factor is a dietary supplement designed to solve one of the most common reasons people visit their doctor, pain.
What Are The Relief Factor Ingredients?
The product takes 4 natural ingredients including fish oil to create a powerful combination for pain reduction.
Is Relief Factor Legit?
Relief Factor has positive reviews and appears to be a legitimate supplement.
Does Relief Factor Work?
Relief Factor has positive reviews from many people and the amount of reviews complaining it doesn't work are minimal. Of course it may not work for everyone but on the whole reviews of Relief Factor are positive suggesting it works.
What Is Relief Factor Made Of?
Omega 3, Turmeric, Icariin and Resveratrol are all ingredients found in Relief Factor. They are known for alleviating joint discomfort and providing pain relief.