Majority of people do not take the recommended quantities of vitamins and minerals daily which has could have adverse effects in the long run. A balanced diet constitutes proteins, carbohydrates and vegetables. Daily intake of greens is thus important as they provide many nutrients and vitamins that our body needs to function properly.
Grown American Superfood is an organic superfood supplement made from natural whole foods that are gently dried and then crushed into a powder. This product is designed to help you achieve the nutritional needs of the body by providing vitamins and minerals.
By the tail end of this Grown american superfood review, you'll have learned what grown american superfood is, its ingredients and customer reviews on this product.
What Is Grown American Superfood
Grown American Superfood is a concentrated green powder dietary supplement made from organic vegetables and fruits. The green powder is designed to supplement your diet and help provide the nutritional needs that your body requires.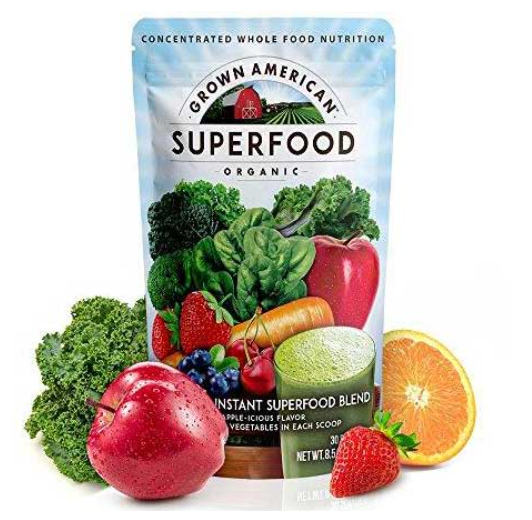 Grown American Superfood is produced by Van Drunen Farms which is sourced from local farms and organic farmers that do not use pesticides or GMOs. It is all organic.
This product claims to contains 30+ Organic Fruits and Vegetables in every scoop making it easier and nutrient denser than Juicing.
This superfood powder can be taken by mixing a serving of the grown america superfood into water and drinking it in the morning to add an extra boost of energy to your day.
The powder is full of nutrients, vitamins, antioxidants, gluten free and dairy free that will help boost your overall health and quality of life.
Grown American Superfood should not be confused for a weight loss product. It is simply a supplement that is organically produced and designed to help improve your overall health by meeting all the nutritional needs from a balanced diet.
The term "Superfood" is used for foods that contain a dense amount of nutritional value. Common foods that are referred to as superfoods include kale, acai berries, and wheatgrass. These "superfoods" are full of vitamins, phytonutrients, fiber, and antioxidants.
Superfoods are whole foods that are extremely healthy such that they have distinct health benefits that will help give your life an extra boost.
Some of the positive effects that superfoods have are reduce your risk of heart disease, memory loss, and other health issues.
Super Greens powders are dehydrated and pulverized greens that are designed to help you increase your nutrient intake.
These powders contain a plethora of nutrients such us vitamin B, vitamin A, vitamin K, calcium, iron, and antioxidants. They are designed to help you take in all the vegetables and produce that you might not normally be able to eat every day.
Who Manufactures Grown American Superfoods?
Grown American Superfood is a popular green superfood manufactured and marketed by Grown American a prominent supplement brand that is certified organic.
The company is based in Pueblo, CO, and is acclaimed for its use of ingredients grown on local farms. All the ingredients are grown on the company's family-owned farm.
Who Is Grown American Superfood Best For?
Grown American Superfood has been designed to give an extra nutritional boost thus the term dietary supplement.
While consuming whole foods is the most ideal, it is not always possible for everyone especially when our daily lives get so hectic that you skip meals. Super green powders come to the rescue.
Grown American Superfood is particularly essential for people who may have difficulty chewing for example a jaw problem or dental issue. It may be a good idea to take green powders to help boost your health and help you to get the vitamins and nutrients that your body needs.
Grown American Superfood Ingredients
Let's look at the Grown American Superfood ingredient list and the health benefits it offers.
This superfood is made from 31 organic fruits and vegetables with no additives or chemicals.
The whole foods are all locally sourced in the United States, dried, and crushed. This creates a superfood powder that is simple and easy to ingest.
Each serving of 8 grams contains:
5 Organic Concentrated Leafy Greens: Kale, Spinach, Wheatgrass, Barley grass, Alfalfa grass
8 Organic whole fruits: Blueberry, Strawberry, Cranberry, Orange, Cherry, Lemon, Pear, Apple
6 Organic Vegetables: Broccoli, Celery, Brussel Sprouts, Carrot, Green Bell Pepper, Pumpkin
12 Organic Sprouts: Amaranth, Quinoa, Millet, Buckwheat, Garbanzo Bean, Lentil, Adzuki, Flax, Sunflower, Pumpkin, Chia & Sesame
Organic Leafy Greens
Spinach is a good source of iron, calcium, and vitamin C that is an easy way to get maximum nutrients. Kale is rich in vitamin K, calcium, and antioxidants. Barley Grass is a great source of amino acids and antioxidants.
Wheatgrass is rich in iron and potassium; wheatgrass is beneficial in boosting immunity and gut health. Alfalfa grass is a great source of iron and phosphorous and a rare source of K4 nutrients. Alfalfa grass is also known to assist with arthritis and asthma. Pumpkin seeds contain omega 3 fatty acids, an essential fatty acid that your body can't make on its own.
Organic whole fruits
Strawberry is a rich source of vitamin C which actually contains more vit C than oranges. Blueberry is a tasty fruit loaded with nutrients like antioxidants, Vitamin B6, and C which prevent cell damage.
Cranberry fruit helps in managing high blood pressure along with keeping the urinary tract healthy. Cherry helps in improving healthy sleep and the health of people with arthritis.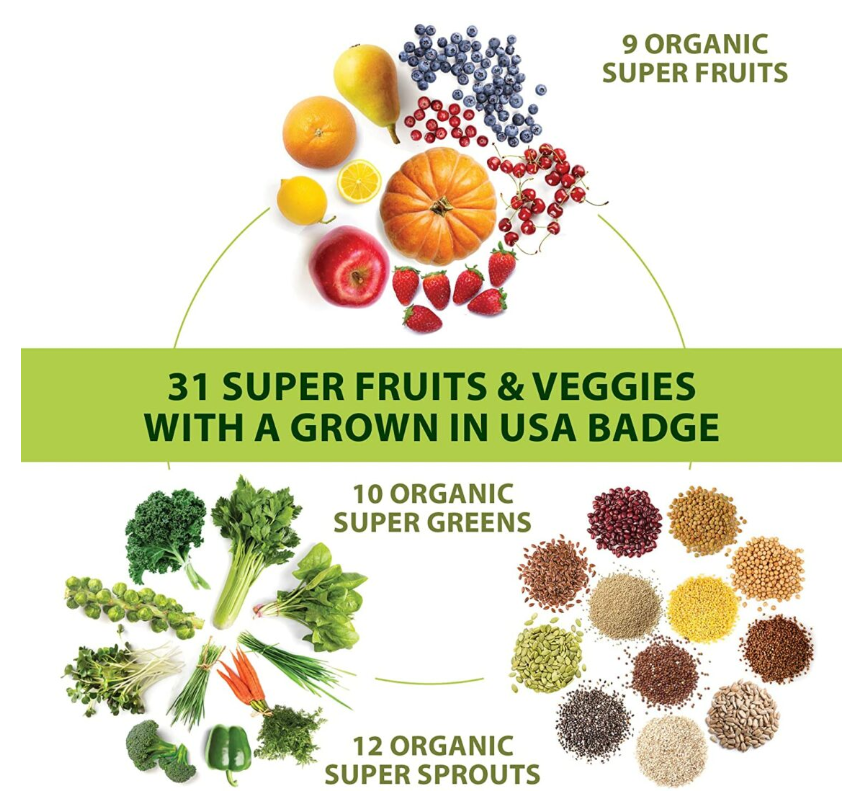 Orange is rich in vitamin C which helps in boosting immunity. Lemon is another rich source of Vitamin C and helps in keeping the body's Ph balance in moderate condition.
Apples help in reducing hypertension condition. Pears are rich vitamin C in addition to riboflavin and magnesium.
Sprouts
The sprouts listed are proven to be top-notch sources of fiber as well as essential vitamins and minerals that are very important which could be missing in the average diet. The gluten-free properties of these sprouts make them an apt choice for those with grain sensitivities or other digestive disturbances.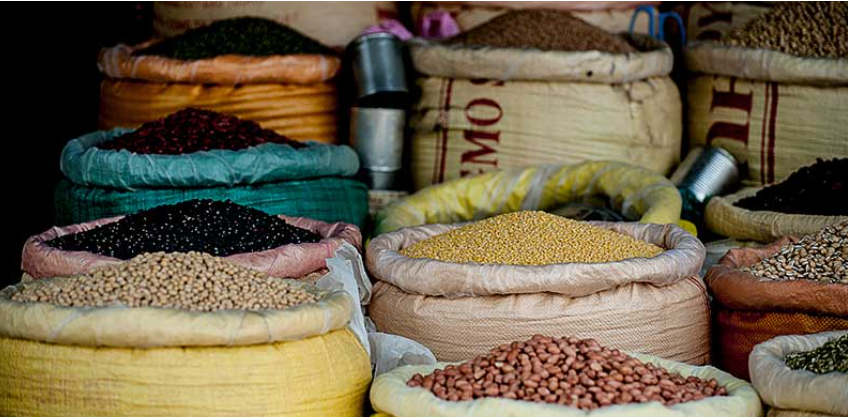 Amaranth is the most protein-rich grain that is known to help in preventing hair greying and hair loss. Millet is rich in iron, potassium, zinc, and vitamin B. Quinoa is a significant source of plant antioxidants known as flavonoids such as quercetin and kaempferol; compounds that have anti-cancer, anti-inflammatory, and anti-depressant effects. Quinoa is also very rich in proteins and important minerals such as iron, zinc, potassium, and magnesium.
Garbanzo Bean is a great source of manganese, molybdenum, and vegan protein. Sunflower sprout helps in stimulating bone health. Pumpkin sprout is a great source of omega 3 fatty acids. Sesame sprout are a good source of iron and vegan protein. Millet sprout contains essential B vitamins, zinc, and potassium.
It's important to note that while the ingredients list does have a large amount of healthy whole foods, it does not thoroughly explain how much of each food is in each serving.
Many nutritionists agree that there's not enough scientific data to prove or disprove the effects of green powders.
Organic Vegetables
These vegetables are immensely packed with vitamins, minerals, and bioactive compounds that can contribute to reduced inflammation in body tissues. Vegetables are known to be essential for digestive processes, with celery, in particular, containing pectin-based polysaccharides that are believed to decrease the formation of stomach ulcers and regulate stomach secretions. Brussel sprouts and broccoli are generous sources of fiber, this category can boost digestive health by promoting beneficial bacterial growth in the gut and lower blood sugar.
Moreover, everyone knows that orange-colored vegetables like carrot and pumpkin are uncontestably the best sources of vitamin A you can include in your diet. Vitamin A deficiency is the leading cause of night blindness; thus, consumption of pumpkins and carrots can actually reduce your risk of sight loss. Both these vegetables also contain carotenoids like beta-carotene, which acts as a natural sunscreen to protect skin cells against UV rays which cause harmful sun damage. Furthermore, lutein and zeaxanthin are found in relatively high amounts in bell peppers and pumpkins, which are known to improve eye health by protecting the retina from oxidative damage.
How Does Grown American Superfood Work?
Grown American Superfood claims to assist in healing and overall health through its varied type of fresh and organic ingredients used in the formulation.
Nutrients delivered by this superfood drink helps in providing healthy bone density, glowing skin, and boost energy levels. Omega 3 found in this supplement gives you improved mental and cognitive health.
Protein supplied helps in building healthy body structure along with healthy muscles. Fibers, enzymes, probiotics, and antioxidants used in the formulation helps in providing healthy organs, immunity, and energy.
Green powders are also an excellent option for people who might have difficulty chewing. For people with certain health problems, super green powders can be a way to get their daily needed vegetables.
Are Super Green Powders Effective?
Nutritionists have conflicting opinions about whether or not green superfood powders are actually beneficial. Most agree that whole foods are the best and healthiest option. But superfood powders are designed to fill the gaps in your diet where nutrition might be lacking.
Some nutritionists doubt the benefits of green superfood powders, as they are a processed version of "the real thing."
Green powders should not replace all of your daily vegetable intake and pose as a vegetable substitute.
However, if you are struggling to eat all the whole foods your body needs daily, then green powders can be an excellent addition because they will help you increase your nutrient intake.
How to use Grown america superfood
Grown American Superfood is simple to use, and is used like any powdered protein or nutritional supplement.
Simply add a scoop of the powder into a cup of water and stir. This will create a healthy green drink that has 1-½ servings of fruits and vegetables, making it a quick and compact way to ingest your daily nutrients.
Alternatively, you can mix the powder into other liquids. If you mix the powder in milk, it will help to mask the natural taste.
You could also add to any smoothie for an extra added health boost! The flavors in your smoothie will definitely conceal the taste.
Alternatively, you can mix into yogurt to add a nutritional punch into your snack. The powder is similar to any other superfoods or nutritional powder, so feel free to get creative with the ways you incorporate it into your life.
How Does Grown American Superfood Taste?
Though the company claims their powder does not have a gritty taste, some Amazon reviewers have reported that the Grown American Superfood powder to have a gritty texture and an earthy taste.
Blending Grown American Superfood with water and ice could help reduce the gritty texture. In addition, blending the powder into a smoothie will help disguise the texture, as the blender will disperse the powder throughout your smoothie and smooth the powder out.
Grown American Superfood only offers one Superfoods Blend which contains over 30 fruits and vegetables: 12 sprouts, eight fruits, six vegetables, and five leafy greens. The taste of Grown American Superfood has been described as earthy and unpleasant on its own.
In order to mask the taste, it will help to blend into milk, almond milk or used as a smoothie boost. The flavor of the smoothie can overpower the earthy flavor of the supplement powder.
Grown American Superfood Customer Reviews
Lets look at some genuine customer reviews of this product.
"A very healthy green drink that disperses well in water and tastes good. Expensive, but worth it if you don't always have time for a balanced meal or want a refreshing drink that is good for you instead of drinking soda."
"What I like about the product are the ingredients. What I do not like about the product is the taste. Also, it thickens up like a fiber drink (Metamucil). The product is very expensive."
"I have tried a number of "green" powders over the years and had to add things to mask the flavor. I think you all know what I am talking about, pinching your nose and swallowing it at lightning speed was the only option and still, there was that long lasting after taste!
I wanted organic, grown here in the USA, non-GMO and found it hard to find. Many tricky labelling practices out there. Not at all the case for Grown American Superfood. It states exactly where it is grown. The apple-licious green powder is now part of my daily routine. I mix it in a bottle of my own filtered well water. I was seeking supplemental micronutrients and antioxidants. I feel that this will fulfill my dietary resolution of eating clean and feeling great!"
This are some of the reviews across multiple platforms.
It is imperative to also look into the company's rating on platforms like Trustpilot, yelp and BBB(Better Business Bureau) to ascertain the legitimacy of its products and claimed benefits.
The product does not appear to have distribution through health-oriented stores like GNC or Whole Foods Market. Large retailers like Costco have no listings for the nutrition powder either.
On Amazon it has a rating of 4.3 out of 5.0 stars from 1,600+ ratings. Customers rating Grown American Superfood often mentioned that they liked the smell, taste, and ease of use. Those rating it low spoke of a high price point or felt the processed powder did not supply the nutrients as the highest-quality fresh foods could.
On walmar it has a rating of 4.3 out of 5.0 stars from 65+ reviews. High ratings mention it is quick, easy, and mixes well. Low ratings from customers described a taste and residue that was unappealing.
On Facebook the company website has over 6,000 likes and followers. Several customers left positive messages on the page but note that our research did not find any neutral takes or Grown American Superfood complaints among them.
Better Business Bureau
Grown American LLC is accredited on the Better Business Bureau (BBB) website since 06/14/2018. It has a B+ rating and customer review score of 1.27 out of 5.0 stars, averaged from 11 ratings. The BBB website lists seven customer-generated complaints over the past three years, with three closed in the last 12 months.
Grown American Superfood Side Effects
The supplement is a prominent blend of fresh and organic ingredients that are grown on a family-owned farm. As per the manufacturer,it is naturally formulated with fresh fruits, veggies, sprouts, and greens that do not possess any type of side effects.
Flatulence could be an issue for some because of the pulses and legumes in the GASF powder. An article discussing this in Nahrung identifies these as intestinal gas sources.
Being on the safer side, you should not drink it on an empty stomach as being formulated with raw ingredients, might lead to digestive issues in the initial days. You might also go through the ingredient list to check if you are allergic to any of it.
How Much Does Grown American Superfood Cost?
The Grown American Superfood costs $69.95 on Amazon and $59.99 + $8.95 Shipping at GrownAmericanSuperfood.com for one 30 Serving bag. A three-month supply ordered from GrownAmericanSuperfood.com will cost $159.80 plus shipping.
The website advertises a free trial, but some customers have complained over the company's billing practices. Several customers complain that they were lured by a free trial that ended up costing them upwards of $80.
There are some third-party sellers on Ebay that sell Grown American Superfoods. However, it is not sold at GNC or other health food stores at this time.
Money Back Guarantee / Returns Policy
Grown American offers a 60-day money-back guarantee if you are not satisfied with the performance of the product. They also have a 'risk-free trial', with a great number of free items offered (a gift valued at $50, they don't say what this is), a free cookbook, a free 14-day supply, and a free shaker cup.
However, reviews on Amazon state that you also get signed up for a $99.90 30-day (30-scoop bag).
Grown American Superfood Compare Vs Other Green Powders
Grown American Superfood has a clean ingredient list of whole foods. The ingredients are also organic, which is a huge health plus.
Choosing the right green powder for you will depend on your individual health goals.
If you need more fiber in your diet, for example, Grown American Superfood might not be the right supplement for you. Other green powders have additional fiber, which will help with motility.
As far as pricing goes, Grown American Superfood comes at a fair cost compared to other foods on the market.
At the end of the day, it comes down to how much money you are willing to spend on your health and nutrition.
Pros and Cons of Grown American Superfood
Pros
Quick and easy to use – Grown American Superfood is an easy way to ingest vitamins and nutrients that might be lacking in your diet. It is a condensed form of produce and can help improve your diet and help you to feel your best.
Some customers have claimed a major boost in energy after taking the green powder daily. It is a quick and easy way to make sure that you are consuming what your body needs.
Uses several nutrient-rich foods– All of the ingredients in Grown American Superfood are designed to help increase your health and boost your immune system.
Locally farmed– The farm to table movement not only supports local agriculture, but it also supports individual health. It is a huge pro that Grown American Superfood sources from local farms.
The organic and pesticide-free produce offers incredible health benefits that will help with your diet.
Fair Price – As far as nutritional supplement powders go; Grown American Superfood comes at a fair price compared to more premium health shakes. Their website offers a 30-day supply for $59.99 + $8.95 Shipping. A serving of this superfood powder is 8 grams. When calculated out, that equals $2.29 per serving. The powder can be found on Amazon for around $60 with free shipping for Prime Members.
Cons
Some consumers have complained about Grown American's billing policy. Their website offers a free trial, though some customers have claimed that they have been tricked into buying a second bag of the superfood powder. If you are interested in trying the powder out, it can be found on Amazon for a better price here.
Limited labeling information – Grown American Superfood does not explicitly state how much of each ingredient actually ends up in a serving of the powder. As this data is lacking, it is unclear exactly how much nutritional benefit you can reap from a scoop of this superfood blend.
Grown American Superfood is also not a meal replacement, and has very little protein, fiber, or probiotics. If you are looking for a meal replacement or a well-rounded supplement, Grown American Superfood might not be right for you.
Conclusion
Grown American Superfood is a concentrated green powder dietary supplement made from organic vegetables and fruits. The green powder is designed to supplement your diet and help provide the nutritional needs that your body requires.
According to Grown American Superfood, each scoop has a full 1.5 servings of healthy, organic fruits & vegetables for an estimated cost of $2.29 per serving.
Grown American Superfood uses several nutritional sources from the freshest crops, but the doses are small which unfortunately may not offer the daily nutritional needs of the body.
All in all, you should do your due diligence and consult a physician before embarking on taking dietary supplements.