It Works is a US-based supplement company that majorly produces weight loss products. It is the company responsible for developing the Slimming Gummies.
It works products help you lose weight, boost your nutrition, and improve your skin.
Being overweight and obese are major risk factors for many chronic diseases and health conditions such as heart disease, stroke, type 2 diabetes, certain types of cancer, and osteoarthritis.
As such weight loss products are bound to catch the attention of many people who seek to have and maintain a healthy weight even with our lifestyles being more sedentary. Well, slimming gummies seem to be just what we need to incorporate into our busy routines, but do they actually work?
Maintaining a healthy weight is critical to a healthy long life as such weight loss products are marketed aggressively especially to women. The efficacy of these over hyped weight loss products remains to be seen.
By the end of this it works slimming gummies review you will have learnt the following:
What is it works slimming gummies?
The ingredients list and possible side effects
Do these weight loss supplements work?
Real customer reviews on this product
Let's dive right into it.
What Is It Works Slimming Gummies?
It Works Slimming Gummies is a weight loss supplement. The product is designed to help users shrink their waistline and reduce the abdominal fat that diet and exercise can't effectively eliminate. It is a vegan, stimulant-free, and sugar-free supplement ideal for those that want to get rid of those extra pounds.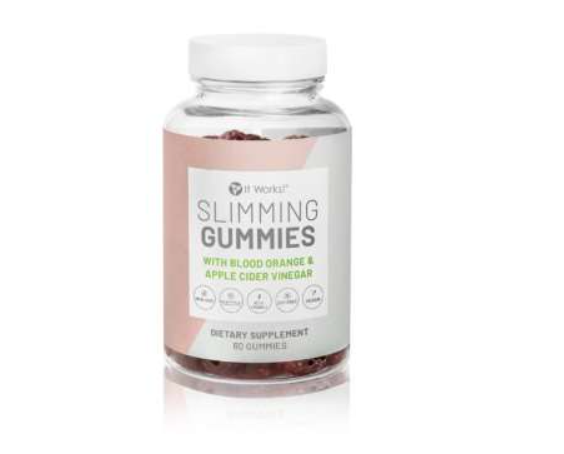 Slimming Gummies is one of the weight loss supplements you get from It Works! company. It Works Slimming Gummies gives you an extra hand when you start your weight loss journey through natural ingredients that help you lose your current fat as well as stop new fat production. We've covered other similar supplements like Hydroxycut Weight Loss Supplement and Burn TS.
This supplement targets your body's natural processes and is best used alongside a healthy diet and exercise routine to give you the best benefits.
It Works Slimming Gummies combine apple cider vinegar, blood orange, and chicory root to help users slim their waistline, shed extra pounds, and reduce the appearance of belly fat. This product is said to help adults achieve a slimmer body with two gummies a day.
These ingredients are designed to help your body break down fat at a faster rate, as well as release fat molecules through lipolysis. Chicory root inulin along with these two main ingredients can speed up your metabolic rate as fat is burned off faster, leading to increased weight loss. It's a great option if you have a little bit of extra fat on your body that you can't seem to get rid of.
Specifically, fat loss will occur in the areas of your stomach, hips and thighs. The pectin in It Works! Slimming Gummies will help you feel fuller for longer periods of time, leading to decreased caloric consumption.
However, at the end of the day, proper diet and exercise are what's most important to losing weight.
It Works Company
It Works! Global is a multi-level marketing company based in Florida.
It sells skin care and nutritional products designed to make your body look and feel better. It was founded by Mark and Cindy Pentecost in 2001. As of 2017, it was worth hundreds of millions of dollars.
Before creating It Works! Mark Pentecost was a public-school teacher in Michigan. He worked in a few different multi-level marketing companies before realizing that if he wanted to make real money, he should start his own.
The most popular It Works! Global product is a body wrap named the 'Ultimate Body Applicator,' or 'That Crazy Wrap Thing'. It claims to help you tighten, tone, firm and reduce cellulite, all within 45 minutes, and is definitely the product that the company is most well-known for.
It Works! also sells protein powders, hair supplements and various other health and wellness products.
It Works! do not have brick and mortar stores selling their products. Instead, the products are sold online through their 'Distributors,' who advertise on social media, using the products themselves and making videos showing off their results and talking about how the products have benefited them.
It Works Company has a charitable organization under its wing. This non-profit organization donates to causes such as cancer research and homeless outreach projects.
Slimming Gummies Ingredients
It Works! Slimming Gummies have a few weight-loss-promoting ingredients. The gummies work by giving you energy while at the same time burning fat stores in your body. This results in a faster metabolism rate, which helps you burn more calories each day and speeds up your weight loss process as well.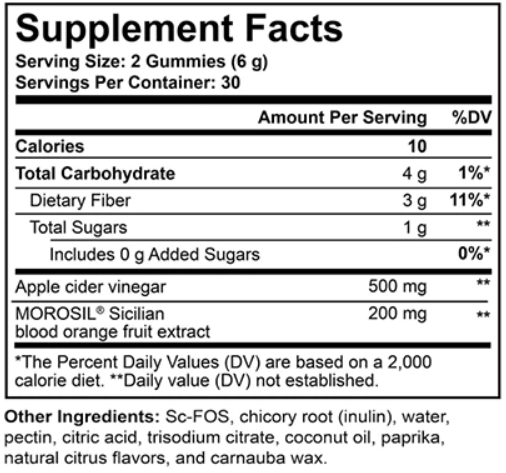 It Works Slimming Gummies contains two active ingredients: apple cider vinegar and MOROSIL. Here is a list of the ingredients MOROSIL blood orange extract, Carnauba wax, Apple Cider Vinegar, Sc-FOS, Coconut oil, Chicory root (inulin), Water, Natural citrus flavor, Citric acid, Trisodium citrate, Pectin and Paprika.
MOROSIL Blood Orange Extract (200 Mg)
MOROSIL is a patented solid extract obtained from blood oranges, more specifically from Moro oranges. MOROSIL is formulated to reduce the buildup of fat deposits in the body while increasing your metabolism.
Blood oranges are high in antioxidants and may have weight loss benefits.
People in a blind study took blood orange extract or a placebo pill for six months. There was a reduction of 4% in BMI (body mass index) for people taking blood orange extract and only a 2% reduction in the placebo group after those six months.
In another clinical trial it was found that MOROSIL caused significant reductions in body weight, waist circumference and hip circumference. Patients taking MOROSIL lost 6.79 pounds over the course of the 12-week trial, and their waist circumference decreased by 7.4%.
However, the dosage used in the study was 400 mg and the dosage in these gummies is only 200 mg, so we will consider this product underdosed.
Apple Cider Vinegar (500 Mg)
Apple cider vinegar is used in many weight-loss supplements and has promising weight loss benefits. Apple cider vinegar has positive effects on your glucose levels and weight.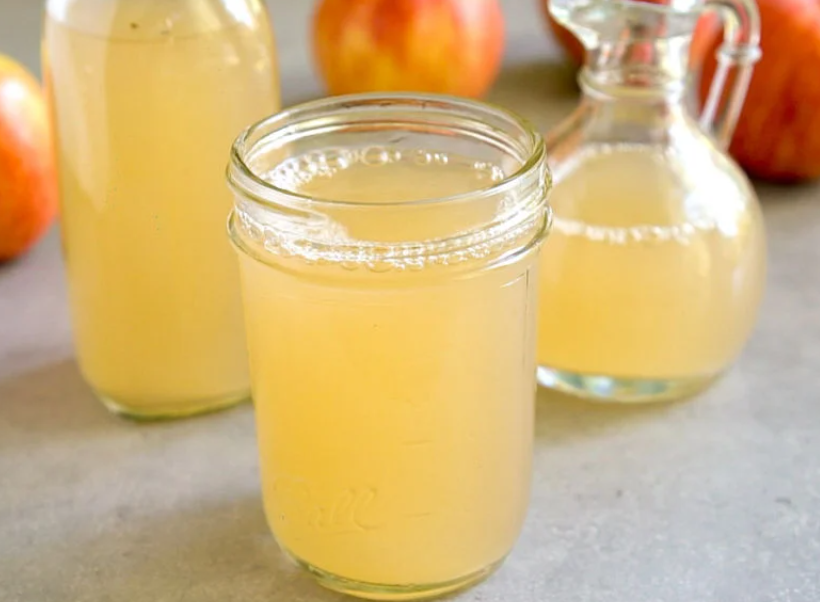 Insulin is a hormone released by the pancreas that helps regulate the body's glucose levels. In the case where your insulin doesn't work properly (insulin resistance), there is an increased risk of obesity.
This ingredient has proven ability to reduce oxidative stress and the risk of obesity at proper dosages. A study showed that people who took apple cider vinegar had better insulin sensitivity. In fact, it made insulin work 19 to 34% better.
A clinical trial published in the Journal of Functional Foods found that ACV is effective for weight loss, however the trial participants were taking a dose significantly higher than that in It Works gummies.
Those taking ACV in the medical trial used a daily dose of 30 milliliters (mL), which equates to around 30,000 mg, or around 60 times the amount in It Works Slimming Gummies.
We have not come across any medical studies suggesting ACV is effective at such a low dose, so we'll consider this ingredient underdosed and unlikely to be effective for weight loss.
Sc-FOS
Short-chain fructo-oligosaccharides (Sc-FOS) are foods that help feed your gut microbiome (the healthy bacteria in your intestines). This helps increase the healthy bacteria in the gut which promotes better digestion and an improved immune system.
Coconut Oil
Coconut oil is high in MCT (medium-chain triglycerides).
It seems that consuming MCT can help reduce your hunger levels, which can reduce your caloric intake.
Chicory Root (Inulin)
Chicory foot is another type of prebiotic like Sc-FOS which feeds gut bacteria and boosts mineral absorption, helping the body's digestive process. The makers of IT Works Slimming Gummies claim this ingredient helps users reduce their overall intake of calories.
While there's no clinical evidence supporting these claims, research has shown that it decreases ghrelin levels, which is a hormone that causes hunger feelings in the body.
Paprika
Paprika contains a vital ingredient known as capsaicin that's present in many weight loss supplements. In other products, paprika is used for gut health and prevents gas and bloating.
Capsaicin is used to provide benefits as an anti-obesity agent. It works by increasing the oxidation of fat molecules in the body.
Citric Acid
Citric acid is widely known to help increase the body's metabolism. Citric acid also helps absorb specific minerals and improve energy metabolism.
Other studies have also shown that citric acid may help kill harmful bacteria in the gut and reduce the overall acidity in your body. In other supplements, this ingredient is included for its benefits on the brain and liver.
Citric acid could cause whole-body inflammation in a small subset of patients according to a medical review published in the Toxicology Reports journal highlighting four case reports of patients that experienced this effect.
Additives
Finally, several additives in the ingredient list don't possess any other benefits than improving the flavor, texture, or appearance of the product.
Claimed Benefits
This best-selling product from It Works! is marketed as a daily supplement that can improve your metabolism and promote a healthy lifestyle. Let's review some of the other claimed benefits that you can take advantage of.
Could Shrink Waist and Hip Circumference
Two gummies per day on a routine basis can help you burn fat and ditch those love handles and flabby stomach. If you find that you have a little bit of extra fat around your midsection, clinically proven blood orange extract along with a dose of apple cider vinegar can help.
May Help You Lose Weight (Slim Down)
You can lower your body mass index with the use of It Works! Slimming Gummies thanks to the high-nutrient and high-fiber ingredients included in its composition which can contain an appetite thus keeping weight gain at bay. You can achieve this in a few different ways. For starters, inulin will help you feel full for longer periods of time. You'll be able to decrease the size of your meals as well as skip unnecessary snacking. You'll burn more fat and calories when you exercise, and your body will make proper use of your nutrients without turning everything into fat.
Could Speed Up Your Metabolism
MOROSIL Blood Orange extract has been shown to increase metabolism, helping you slim down quickly. This extract also helps detox your liver, so there are added benefits beyond weight loss.
It Works! Slimming Gummies Reviews 
Most consumers who join the apple cider vinegar gummies bandwagon are drawn in by the positive reviews that are promoted all over the internet as such it is imperative to validate these reviews. There seem to be many who love lady boss lean and seem to be impressed by the product and the results attained. Taking a closer look at some of the reviews, one customer had this to say;
I only started taking these three weeks ago, so it is too soon to tell if it is working or not. I can say that my clothes aren't as tight, and I am sleeping much better at night. They are bite sized gummies and there is no bitterness or aftertaste of any kind, so it is really easy to consume. I hate scales, so I haven't checked my weight in over a month and a half. I will post a follow up review next month.

Laura
I was a skeptic and really didn't want to order because of the price. However, I have been using [it for about] 3 weeks and lost 3 pounds and 3 inches. I haven't been exercising like I should and still amazed at how it's working. I will order more than one bottle this time.

P . Turner
I ordered these as they were suggested to help remove stubborn belly fat and lower bmi. I have used a full bottle, spent a lot of money and no visible changes noted. I think it's a gimmick…It is terribly expensive…and no results."

Mary Ann Noland
There are negative reviews also, some customers had this to say;
This is a waste of money. They are full of sugar and DON'T WORK. I took them for a month with no weight loss. I contacted the rep, and she told me to take 2 in the morning and 2 at night. Still No weight loss.
These do not work. The vinegar actually started affecting my body odor. I had gastrointestinal issues the entire time. I lost weight a lot faster dancing around my house while doing chores and cooking…
It works slimming gummies has an overall rating of 3.6/5 on Amazon and 3.1/5-star rating on Trustpilot.
Potential Side effects
It Works Slimming Gummies use natural and safe ingredients however people react differently to various natural ingredients.
In addition, whenever you start to take any dietary supplement, there is a chance for mild discomfort because of the change you're introducing to your body. This can be especially true if you have a sensitive stomach.
Some of the side effects reported are:
Stomach cramps
Bloating and gas
Poor bowel movements
Heartburn
It Works Slimming Gummies Dosage
You should take two gummies every day with or without food, one in the morning and one in the afternoon.
The maximum you should take is if you double up the doses and take two gummies in the morning, and two in the afternoon, for a total of four gummies a day.
This It Works Slimming Gummies review finds that you should take these gummies for at least 90 days straight to see the effects of the supplement.
Remember that you shouldn't exceed the 4-gummy limit per day. Even though they might be delicious, they are still a weight loss supplement and may cause uncomfortable side effects, especially to your stomach.
Who Is "It Works! Slimming Gummies" For?
Slimming Gummies are for those people that want to reduce their abdominal and hip fat.
While some ingredients might increase fat-burning properties, diet and exercise still play a crucial role in weight loss.
Slimming Gummies Price
Supplements don't tend to be cheap. Slimming Gummies is not an exception. Each bottle costs $60 which is a one-month supply.
Buying in bulk or having a subscription can save 15 to 25%. However, you can expect to pay $45 to $52 per bottle.
This means that if you are on a tight budget, purchasing this supplement might not be the best option.
On the brighter side, It Works Slimming Gummies has a Loyal Customer program that requires you to subscribe to their products to receive many perks.
When you become a Loyal Customer, you will receive 40% off all products, free shipping, extra gifts, and endless coupons. There are three levels of subscription options, each with their own perks, so that's definitely one reason to sign up!
It Works Slimming Gummies' Shipping Policy?
The shipping policy at It Works Slimming Gummies depends on where you're ordering from and the shipping method that you've chosen.
Currently, this brand ships out to the United States, Canada, Australia, New Zealand, Europe, Japan, the Philippines, and Mexico.
It Works Slimming Gummies' Return Policy?
It Works Slimming Gummies only accepts returns on products that have been unopened and unused within 30 days of the original shipping date. If you decide to return your supplement, you'll have to cover your own return shipping charges.
If you've signed up for the brand's auto-ship program, you'll need to log into your It Works Slimming Gummies account to cancel your subscription from there, or you'll continue receiving products.
It Works! Slimming Gummies Pros and Cons
Now that we've discussed the ingredients in Slimming Gummies let's go over the pros and the cons.
Pros 
It contains natural ingredients.
Blood orange extract can promote weight loss.
Comes in gummy form.
Cons
Few weight loss ingredients.
Very few reviews are available online.
Unclear food label with dosages.
Is It Works Slimming Gummies Worth It?
This question depends on your goal and what you are willing to spend. If you are looking for a quick fix or something that will make you lose 10 pounds overnight, this might not be the best one for you as the ingredients may not be to the recommended level.
It Works Slimming Gummies might provide some benefits for gut health and digestion – and it even might help you maintain weight.
But as far as promoting any substantial weight loss as it promises – don't count on it. There just aren't enough effective ingredients that trigger any sort of metabolism increase or elements of weight loss in any significant amounts.
If you search online, you'll find little in the way of It Works Slimming Gummies before and after, which may cause concern for some buyers.
It's important to note that no supplement can work on its own for weight loss, it has to be taken in conjunction with dieting and exercise.