We all want to have healthy lifestyle; and that includes regular exercising and eating a balanced diet. A balanced diet constitutes proteins, carbohydrates and vegetables. Daily intake of greens is thus important as they provide many nutrients and vitamins that our body needs to function properly.
Juice Plus has been getting a lot of attention in the diet market due to the growing popularity of superfood blends. This product claims to provide many of the nutritional and antioxidant benefits of fruits and vegetables this however, yet to be proven with the little research available on superfood blends.
Juice Plus+ supplements are made from the juices of around 30 fruits and vegetables and is marketed as "the next best thing to fruits and vegetables." They contain vitamins, minerals, and other plant compounds from these juices.
However, they aren't intended to replace fruits and vegetables in your diet.
Vegetables and fruits can help protect you against cancer, diabetes and heart disease. It's a well-known fact that eating right improves the quality of life. It is recommended to take at least 1½ to 2 cups per day of fruit and 2 to 3 cups per day of vegetables as part of a healthy eating pattern; this depends on age and gender.
Intake of vegetables will generally help you feel healthier and happier.
By the tail end of this juice plus review, you'll have learned what juice plus is, its ingredients and customer reviews on this product.
Let's get right into it.
What is Juice Plus+?
Juice Plus is a plant-based dietary supplement that comes in powdered-filled capsules or gummy chewable such that if you are not getting enough fruits and vegetables in your diet plan, this supplement claims to fill those dietary gaps.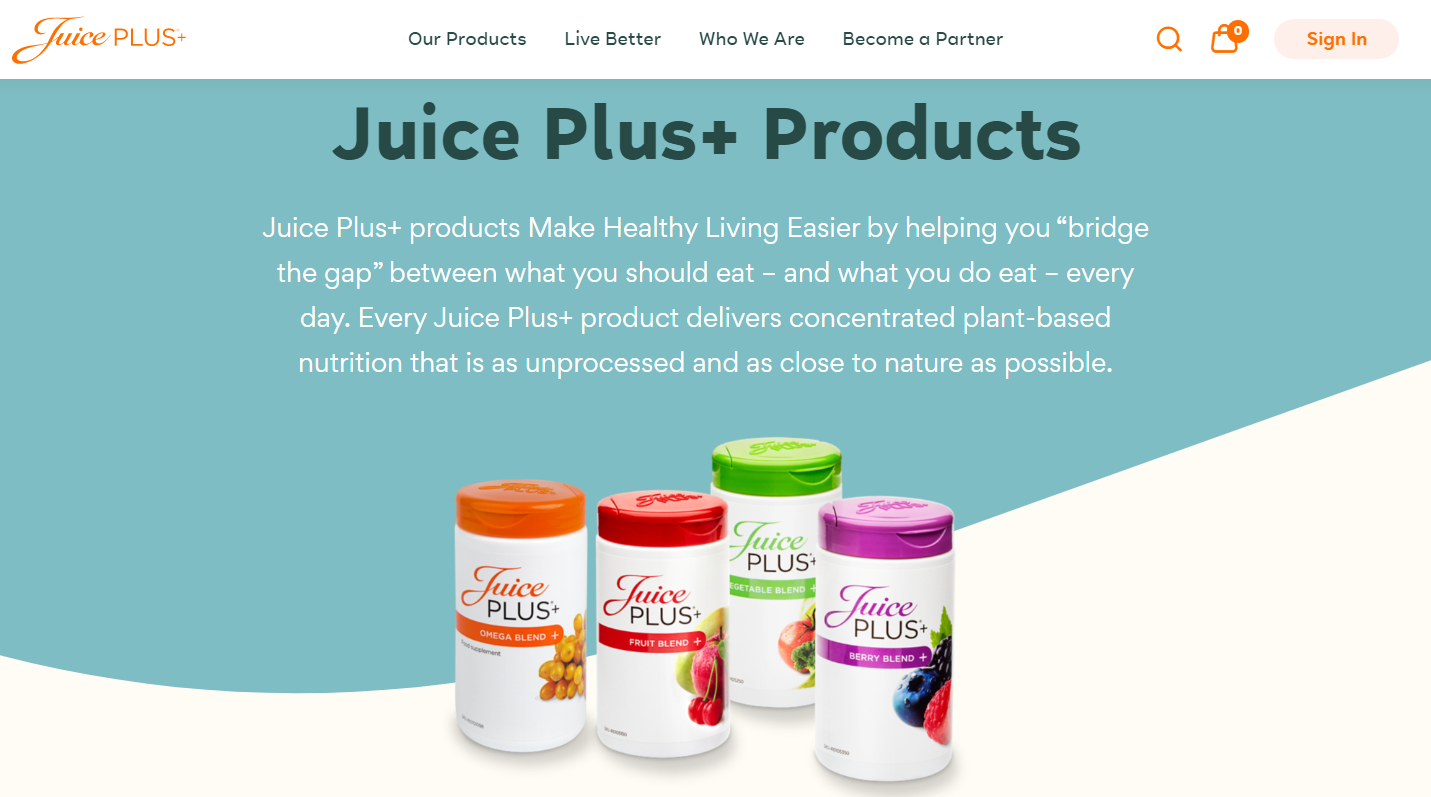 The fruit and vegetable powders are extracted from a variety of whole fruits and powerful vegetables which are made into capsules or chewables. The fruit and vegetable capsules are among their most popular products.
The fruit and vegetable capsules contain over 30 different fruits and vegetables which the company claims the products are targeted to help fill the gaps in nutrition.
They offer 4 primary blends in their Juice Plus+ capsules and chewables:
Vegetable Blend: Includes broccoli, tomato, parsley, carrot, garlic, beet, spinach, cabbage, and kale.
Fruit Blend: Includes peach, cranberry, orange, apple, mango, acerola cherry, pineapple, date, and prune.
Berry Blend: Includes raspberry, bilberry, blueberry, cranberry, pomegranate, concord grape, black currant, blackberry, elderberry, artichoke, and cocoa.
Omega Blend: Omega-3s made from algae and other plant-based sources
The products also contain additional ingredients such as soluble fiber, enzymes, and probiotics in addition to the fruits and vegetable powders.
Juice Plus+ also has a line of vegan protein shakes and bars containing fruit and vegetable powders in addition to other ingredients called Complete.
The main protein component in the shakes and bars is soy. The shakes also contain chickpea, pea, and rice protein.
The Juice Plus+ Complete is offered in several flavors:
Complete shakes: Dutch chocolate and vanilla
Protein bars: Dark chocolate + fig, tart cherry + honey
Juice plus+ also has a multi-level marketing component; where you can sign up to be a distributor of the products. It is, however, different from other MLMs as it only costs $52 per year to become a distributor with no minimum purchase required.
Juice Plus company was founded in 1970 by Chairman Jay Martin a schoolteacher-turned-entrepreneur. The company's headquarters are located in Collierville, TN. The Juice Plus+ Company has grown from a small, direct-sales company into a highly successful, privately held health and wellness company operating in more than 20 countries today.
In this Juice Plus review, we will discover if this product really works and is worth trying out.
Who is Juice Plus+ for?
Juice Plus+ is designed to make it easier to get more vitamins and minerals into your diet especially at that time when people's schedules are becoming tighter and complex. This may be a good option for several groups, including:
People with a busy schedule: Juice Plus+ supplements are intended to be an easy and convenient way to help meet your nutrient needs. If you have a busy schedule and don't always have time to prepare nutritious meals or snacks at home, it could be a good option.
Athletes and gym-goers: Juice Plus+ has a protein shake called "Perform" that's formulated to support healthy energy levels and promote recovery, making it a potentially appealing option for those with an active lifestyle.
Families: Juice Plus+ offers a range of chewable supplements made with fruits and vegetables, which are designed for children and adults who dislike swallowing tablets or capsules.
Juice Plus+ also claims its supplements can support multiple aspects of health, including heart health, immune function, skin health, and inflammation. All these promises may sound appealing however, research on supplements or scientific evidence to support the said benefits is limited.
Juice Plus+ Ingredients
Juice Plus dietary supplements contain a variety of fruits and vegetables which could be referred to as vitamin supplements. These supplements are grouped into different blends: fruit blend, vegetable blend, and berry blend. The capsules and Juice Plus gummies have been developed using the same ingredients thus have the same nutrient value.
Nutrients such as Vitamin A, Vitamin C, and Vitamin E are on individual package labels. It is worth noting that each blend contains an excessively high amount of vitamin A, some equaling 90% of the Daily Value.
The supplements also include a number of added ingredients, including:
calcium
carotenoids
soluble fiber (glucomannan)
enzymes
dried probiotics (Lactobacillus acidophilus)
folic acid
The exact quantities of ingredients in Juice Plus+ supplements are not listed. This means the exact nutrient composition isn't available.
It is important to note no conclusive study shows that Juice plus supplements offer the same benefits as eating fruits and vegetables directly.
Fruit Blend
The fruit blend is also known as the orchard blend. It contains fresh fruits such as apple, peach, cranberry, orange, mango, lemon peel, acerola cherry, pineapple, prune, date, and beet. Fruit juices are not only delicious but also vital for overall health.
Multiples Studies show that acerola cherry is rich in ascorbic acid, which is Vitamin C. Vitamin C is excellent for glowing skin, immune function, and overall health.
Vegetable Blend
The vegetable blend is also known as the garden blend which contains vegetables such as broccoli, parsley, tomato, carrot, garlic, beet, spinach, cabbage, lemon peel, rice bran, and kale.
Berry Blend
Last but not least, the berry blend. It is also known as the vineyard blend which contains raspberry, bilberry, blueberry, cranberry, pomegranate, concord grape, black currant, blackberry, elderberry, artichoke, and cocoa.
Research shows that elderberry is suspected to reduce oxidative stress. Oxidative stress is an imbalance between the free radicals and antioxidants within your body. This imbalance of free radicals and antioxidants causes inflammation and diseases.
Additionally, there is a Juice Plus Omega Blend since your body can't make omega-3 fatty acids. This blend contains algal oil, pomegranate seed oil, raspberry seed oil, sea buckthorn berry oil, safflower seed oil, and tomato seed oil. The plant-based blend offers omegas 3,5,6,7 and 9.
Studies show that individuals taking a plant-based fatty acid supplement have an increase in red blood cells omega-3 index.
This vegan supplement claims to support brain function, helps vision, and improve heart health.
Juice Plus also makes a daily protein supplement called Complete. This plant-based protein contains water-washed soy, chickpea powder, pea protein, rice protein, amaranth, millet, quinoa, radish sprouts, broccoli sprouts, and alfalfa sprouts.
Does It Really Work?
According to the Juice Plus website, the products have been clinically researched in universities and research centers around the world to support their efficacy.
Researchers at leading hospitals and universities across the globe have established forty-one Juice Plus clinical studies.
The brand claims that clinical research has found that adding Juice Plus capsules to your diet consistently has many positive effects, like immune health, heart health, and DNA support. You can find a list of all the completed studies on the Juice Plus website
Benefits of Juice Plus+
Juice Plus claims to provide many health perks. Juice Plus+ asserts that it can provide serious health benefits though scientific evidence does not always support their claims.
Keep in mind that while Juice Plus+ claims to be supported by over 40 peer-reviewed publications, many of the studies were funded by the company itself.
Let's take a deeper look at some of these health benefits.
Cardiovascular Health
When you are consistently taking its supplements, Juice Plus claims that you should see positive health results. One of the main benefits discussed is heart health.
Research suggests that daily ingested fruit and juice powder concentrates can reduce the immediate negative impact of high-fat meals.
It is known that intake of foods rich in fat(cholesterol) have a negative effect on heart health. A diet rich in whole food is essential for overall wellness.
Supports Healthy Immune System
Additionally, Juice Plus helps create an environment for a thriving immune system. One study showed there was a reduction in sick days due to an illness by those consuming Juice Plus.
Randomized control trials show that consumption of Juice Plus was associated with a 20% reduction in common cold symptoms in a group of health care professionals. However, further studies are needed to ascertain if Juice Plus could further reduce the severity or frequency of contracting the common cold.
However, we can't know that Juice Plus will prevent you from getting sick, but it should help with your nutrient intake.
Supports healthy skin
There have been studies on people taking Juice Plus+ which observed better skin hydration, thickness, and circulation.
Ingesting fruit and vegetable concentrate is also linked to improved skin health.
Currently, there aren't any studies examining whether Juice Plus+ is better for skin health than regular vitamin supplements.
Reduced stress and chronic inflammation
Inflammation is a natural process that helps your body fight illness and heal itself however, long-term inflammation known as chronic inflammation may lead to health problems, such as heart disease, type 2 diabetes, and some cancers.
Fruits and vegetables are rich in antioxidants that may help protect against chronic inflammation.
However, more high-quality, recent research is needed, as most studies available on the anti-inflammatory effects of Juice Plus+ are funded by the company.
How To Take Juice Plus+
The dosage of Juice Plus+ depends on the product.
Capsules: 2 capsules of each blend per day for adults
Chewables: 4 chewables per day for adults and 2 for children
Omega blend: 2 capsules once a day, which provides 925 mg of omegas, including 375 mg of omega-3s (this is above the minimum recommended dosage of 250 mg of omega-3s per day)
Protein powders: Can be used as needed, 1 scoop has 140 calories and 14 grams of protein
Protein bars: Can be used as needed, each bar is 170 calories and 10 grams of protein
Additionally, Juice Plus makes shakes and bars that come in different flavors, like french vanilla and dutch chocolate. This vegan shake powder contains plant-based protein, fiber, greens, and prebiotics; they are also gluten free.
For the shakes you could just blend one serving with one cup of water or your favorite smoothie, and it's ready to consume.
If you prefer the bar instead of the shake powder, you can consume one bar a day at any time. The nutrition bars claim to provide a good source of protein and fiber. In fact, Complete bars have ten grams of protein and 5 grams of dietary fiber. These bars are perfect for individuals who are vegan or gluten-free.
Suppose you are taking any other medications or supplements, we highly recommend contacting your healthcare professionals before taking any new supplement.
It is however important to note that juice Plus does not necessarily provide more benefits than a regular multivitamin supplement.
Juice Plus+ Customer Review
The Juice Plus website has a section of reviews from health professionals discussing the potential benefits of consuming Juice Plus.
Here are a few reviews available on different platforms.
my friend introduced me to Juice Plus. After about maybe 3 mos I noticed one morning I woke up and my planter fasciitis was gone. To be honest, I have no idea if Juice Plus helped this or not. I am scared to stop taking Juice Plus, because just in case it helped with my planter problem, I don't want to take any chances.
"Excellent products, with a very genuinely caring approach to customer service… I'm a registered clinician and recommend these products to everyone I know with confidence. I have read the clinical papers, and the research is truly astounding."

Lo.
However, according to the Trustpilot, not all customers have been satisfied. Here is what they have to say.
"Customer service is awful. Part of my order was damaged, but I didn't realize it on delivery because the capsule bottles are individually sealed. I used the first bottle, and when I came to use the 2nd the omega from one capsule had spilled out, and all the cotton wool was stuck to the capsules rendering it completely unusable. Customer services refused to replace it, saying I should have notified them within seven days. This company is only interested in your money, not your health. Also, be aware that some of the products are not capsules; they are a powder that must be added to water and drank. These are vile and undrinkable. The shakes are nice but not nice enough to make me want to deal with this company ever again!"

Stephanie
"It didn't work for me at all. I was told it was $75 for a few months; it was $300.00! That's insane & it doesn't work!"

Sarah
Overall Juice plus has a customer rating of 4.6/5 stars and 3.8/5 stars on amazon and trustpilot respectively.
Potential Side Effects
Since this product is only made from fruit and vegetable extracts, does it have any side effects?
Let's start by saying that Juice Plus is not a replacement for whole fruits and vegetables. It would be best if you still strived to maintain a diet full of nutrient-dense foods.
Research has found a few side effects involved with taking Juice Plus. Juice Plus intake has been found to have a connection with a 51-year-old woman with carcinoma who reported elevated bilirubin levels. Once she stopped taking this supplement, her levels improved.
Despite the general idea that the antioxidant effects of vegetable and fruit extracts are good for cancer patients, this study suggests otherwise. Additionally, the lack of fiber in the supplements only emphasizes the need for a whole food diet even when taking the supplements.
Cost
The products must be purchased together in bundles. You must purchase a 4-month supply at a time; however, you can pay in monthly installments.
Here is how the price breaks down:
Capsules of all three blends (vegetable, fruit, berry): $75 per month
Capsules of two blends (vegetable, fruit): $50 per month
Chewables of all three blends: $76.50 per month
Chewables of two blends: $25.50 per month
Capsules of Omega blend: $30 per month
Complete+ protein powder: $140 for 4 pouches (15 servings each) or $35 per month
Complete+ protein bars: $140 for 60 bars or $35 per month
These products are a bit expensive, and similar products can be found at a lower price.
Is Juice Plus+ FDA-approved?
While the FDA sets strict standards for labeling supplements, it does not regulate supplements the same way that it does medications.
This means that the FDA does not oversee the actual production and what ingredients go into dietary supplements. Therefore, Juice Plus+ supplements are not FDA approved.
Pros
Clinically researched around the world
NSF- certified products
The company gives back to multiple foundations
Cons
This product is expensive.
The amount of ingredients in each product is not available
You have to pay a membership fee to become a partner.
There is no fiber in the fruit or vegetable gummies
Conclusion
Juice Plus is a whole food supplement that helps provide your body with additional antioxidants and nutrients. It is specifically intended for those having trouble maintaining a healthy diet due to a busy life.
However healthy foods should still be incorporated into your regimen since this is not designed to be a replacement of fruits and vegetables.
Juice Plus has impressive research to support its claims, like healthy gums, reducing oxidative stress, supporting weight loss, and other health benefits.  This research should be interpreted with skepticism as they may be biased since they fund the research.
This product is quite expensive, and it may be better getting the nutrients from real food. Additionally, there's no evidence that Juice Plus+ is any better than a regular multivitamin.