Are you looking for a good quality probiotic supplement? If yes, then stop looking any further as you have landed on the right page.
In this article, you will reveal all the details of Plexus Probio5. This supplement claims to have a unique formula (loaded with various probiotics and enzymes) and these ingredients will offer you a range of benefits.
Now, if you are interested to know more about Plexus Probio5 ingredients, how it works, pros, and cons, then let's check our in-depth review below.
What Is Plexus ProBio5?
Plexus ProBio5 is a probiotic supplement that enables your digestive system to function better. It comes in five probiotic strains, vitamins, an enzymatic formula, and other natural ingredients. So, if you always feel low in energy or if you suffer from diarrhea or constipation, you should definitely try ProBio5 as an excellent solution for all these problems.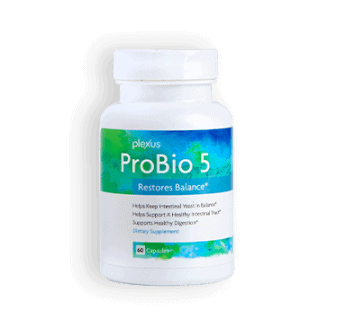 The competitive advantage of this probiotic is its ingredient profile. ProBio5 has natural and healthy ingredients that are all obtained from safe sources. Some of these components are organic but we will take a look at them in the section below.
Plexus Prebio5 Key Features
Some of the key features of Plexus Probio5 that stand out are balanced gut health, solution for digestive system issues, support healthy intestinal tract, effective in weight loss, allow proper bowel movements, maintain the right pH levels in the gut, gluten free, no artificial colors and money back guarantee.
Plexus Probio5 Ingredients
Before you purchase this supplement, you will really be interested to find out whether this product is effective enough! Isn't it?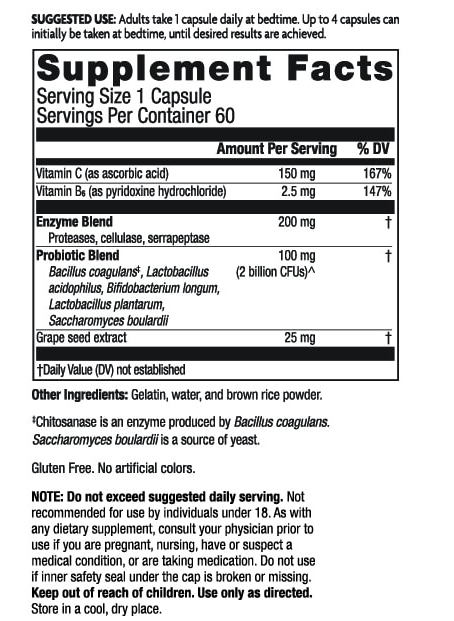 That's why we have minutely assessed all the key ingredients of this supplement. Let's now find out whether these ingredients are intended to diagnose treat the problems like mood disorders, improper digestive systems, weight gain, bloating, acne, and allergies.
Starting from vitamin C to various enzyme blend and probiotic blend, the Plexus Probio 5 formula seems to be really effective.
i) Probiotic Blend:
The supplement contains various probiotic bacteria and each of them is aimed to help you maintain an effective gut health environment.
For example, it contains lactobacillus plantarum bacillus coagulans. This is indeed a beneficial bacteria known as a probiotic. It's mainly found in your intestines. These probiotics are definitely helping microorganisms that will promote a healthy gut.
Similarly, the supplement even contains another friendly bacterium, longum lactobacillus plantarum bacillus. This bacterium serves various purposes for our health, starting from breaking down food, absorbing all the required nutrients, and fighting off "unfriendly" organisms so that they can't cause diseases like diarrhea.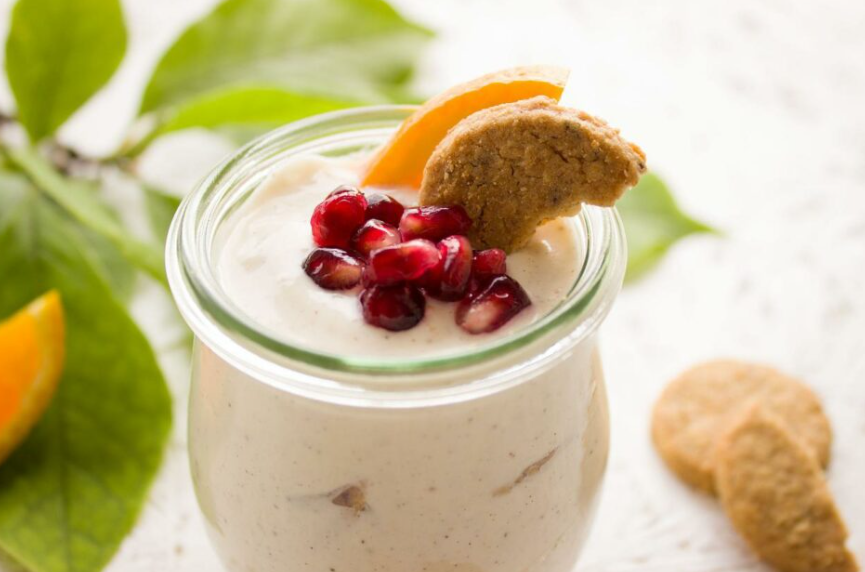 Also note, Plexus Probio5 has lactobacillus acidophilus which is one of the most potent probiotic strains. This strain is really good when it comes to promoting a healthy digestion and balance yeast levels in your gut.
To summarize, Plexus Probio5 features different probiotic strains, such as lactobacillus acidophilus, saccharomyces boulardii, bifidobacterium longum, bifidobacterium longum lactobacillus plantarum, and bacillus coagulans. Each of these five probiotic strains is really helpful for common digestive system issues, such as gas bloating, and constipation. These different probiotic strains may even help you to recover your body from harmful toxins.
Additionally, these probiotics help promote a healthy gut microbiome that consists of healthy bacteria counts and pH levels in the gut thus improving the natural response of the stomach.
ii) Vitamins:
Plexus Probio5 has a unique blend of vitamins. Specifically, the formula features both vitamin B6 and vitamin C.
Vitamin C which is alternatively known as ascorbic acid plays the role of supporting the immune function in addition to the growth, repair, development, and proper functioning of our body tissues. That's not the end!
Ascorbic acid is even involved in various bodily functions, starting from the formation of collagen, functioning of the immune system, absorption of iron, and the effective maintenance of your teeth, bones, and cartilage.
Our body requires a significant amount of vitamin C as it supports immune health. Thus, you will need to eat plenty of fruits and vegetables to get an adequate quantity of vitamin C. But, if your daily diet can't meet this requirement, then it's better to intake a dietary supplement like Plexus Probio5.
Each serving of Plexus Probio5 will provide you 150mg of vitamin C.
Speaking of vitamin B6, it offers you an array of benefits…
Improve Mood
Reduce Symptoms of Depression.
Useful in Treating Symptoms of PMS
Treat Nausea During Pregnancy
May Prevent Clogged Arteries
Each serving of Plexus Probio5 will serve you 2.5mg of vitamin B6.
iii) Enzyme Blend:
Plexus Probio5 supplement formula features an impressive proprietary enzyme blend, such as cellulase, proteases, and serrapeptase. Each serving of Plexus Probio5 will serve you 200 mg of this enzyme blend. Enzymes work to break down cellular walls of plant-based foods and help digestion, enabling an increase in food nutrient value.
Let's now find out the benefits of these enzymes.
Cellulase has various health benefits like breaking down cellulose into usable glucose, breaking down harmful microbial biofilms, improve the nutritive value of fermented foods as well as whole grains.
Proteolytic enzymes (proteases) will break down food for energy. It even improves digestion, decreases inflammation, and eases arthritis pain. Just like the previous two enzymes, serrapeptase has multiple health benefits. It will help you reduce inflammation and pain due to surgery and trauma.
Grape Seed Extract
This extract comes with a variety of health benefits such as improved diabetes control and better eyesight. Grape seeds are a natural antioxidant that lowers blood pressure and can even prevent the formation of cancerous cells. This extract screens your immunity and normalizes your bowel movements.
Other Ingredients:
Plexus Probio5 supplement formula features some more excellent ingredients like brown rice powder and gelatin.
Brown rice powder is great for all those people who are considering plant-based diet. Not only it's hypo allergic, but also, its easily digestible as well as it helps in weight loss.
Does Plexus ProBio5 Work?
Plexus ProBio5 is a dietary supplement that supports healthy digestion and has effects on the intestinal flora. It has a blend of probiotics that actively participate in neutralizing the pH of the intestines which results in optimal gut health.
This supplement helps efficiently balance the acidity of the stomach.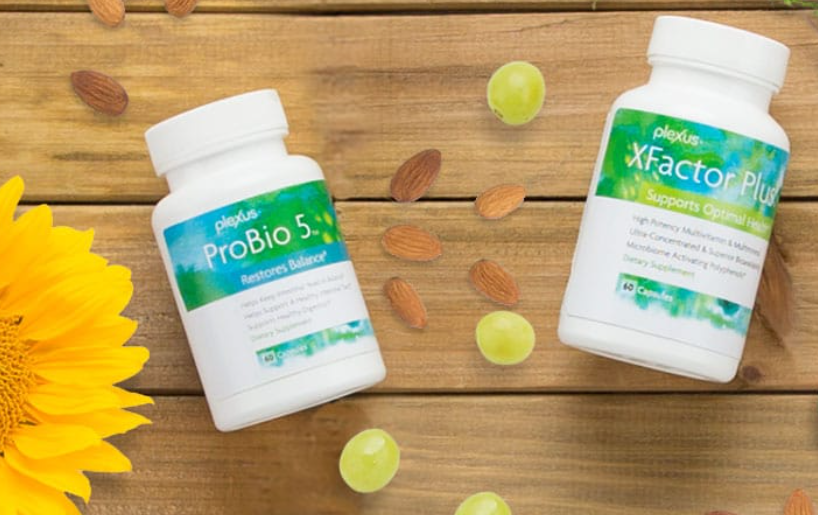 Although no medical proof has been found about this supplement's effectiveness, reviews suggest that it works to some extent.
No side effects were reported, which means that it is relatively safe to use. That being said, you should check with your doctor before you use it in case you have any medical or underlying condition.
Plexus Probio5 Testimonials & Customer Reviews
You must be now keen to find whether this supplement has positive customer feedback or not.
Most of the customers are really satisfied with this product and its claimed benefits. Rest assured that the product has been used and tested by customers all around the world.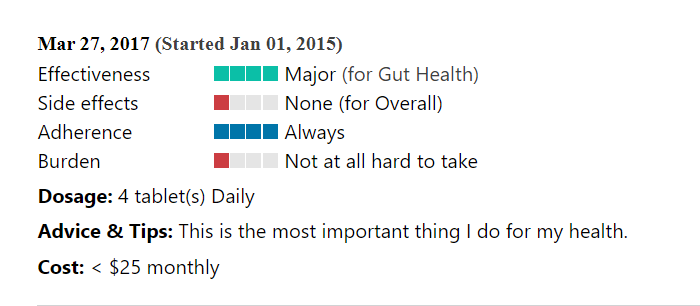 Some of the customer reviews are;
"Have taken for 3 days. Only taking two at bedtime. Was afraid to take in the a.m. and p.m. so thought I'd see if it worked just taking at bedtime. So far so good. Those of us with IBS know how important it is to go everyday. The struggle continues but so far I'm pleased."
And
"My friend told me about this product and so I thought I would give it a try. I love it and wouldn't go with our it."
These customers have witnessed promising results like improved digestive health and enhanced gut balance.
Plus, the product is gluten free.
Plexus Probio5 Side Effects
A renowned probiotic supplement like Plexus Probio5 is typically safe for use. However, each of our bodies is different and they react differently with probiotics.
Here're some of the common side effects of probiotics:
Bloating
Nausea
Gas
Indigestion
Allergies
Typically, the side effects will be very mild. In case if you feel any extreme effects, please feel free to consult a doctor.
How to use Plexus Probio5?
It's important to follow the right dosage cycle so that you enjoy the optimum benefits from this supplement.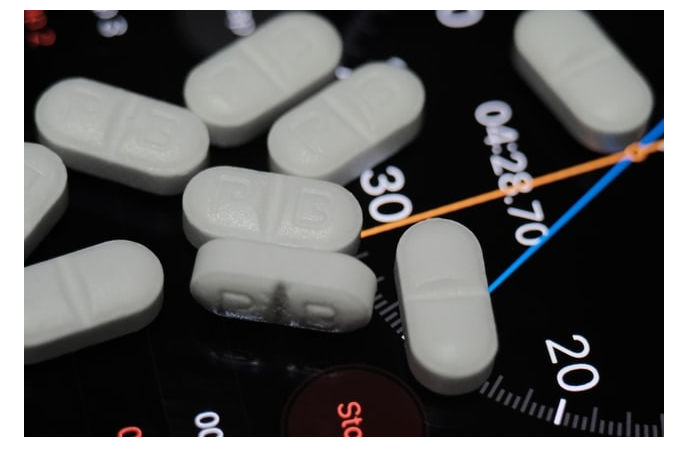 As per the label of Plexus Probio5, you should intake one capsule daily. The ideal time is to intake it before bed. Please note that you can intake up to 4 servings of ProBio 5 daily.
Ensure that you drink plenty of water with these capsules to be certain that the nutrient absorption process will be significantly boosted. Better yet, you could take this supplement with one of your meals.
Note, this supplement is meant for adults only and please do not exceed the daily dosage limit.
Is Plexus Probio5 Worth to Purchase?
Yes, this probiotic supplement is worth to purchase. A vast majority of Americans face issues with an unhealthy gut. With Probio5, you can easily protect your gut simply by keeping the intestinal yeast in the balance and also restoring a healthy gut environment.
The ingredients of this Plexus Probio5 formula are really essential in supporting a healthy digestive system.
Where to Buy Plexus Probio5?
It's recommended to purchase Plexus Probio5 directly from the official Plexus website. The company provides you two buying options.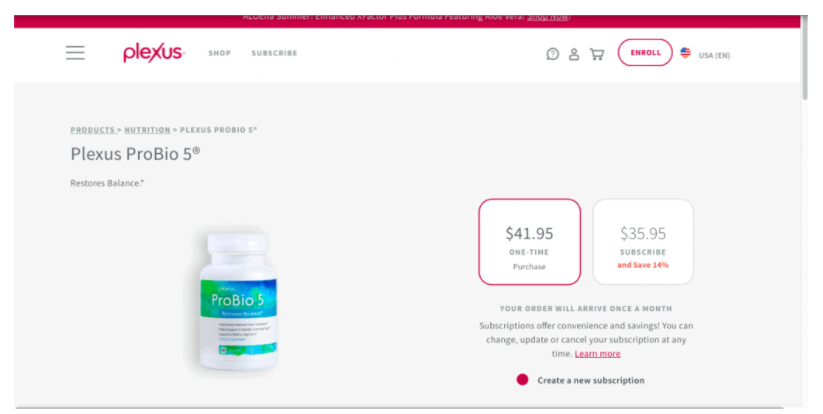 If you opt for the one-time purchase, it will cost you $41.95/pack. Each pack contains 60 capsules.
Other than that, you can even opt for a subscription. The subscription can be taken on a monthly basis. In case if you opt for a subscription, you will need to pay $35.95 per Plexus Probio5 pack.
Pros and Cons of Plexus ProBio5
Pros
The manufacturer claims ProBio5 helps you lose weight while also reducing the amount of abdominal fat.
Lowers bad cholesterol and blood pressure levels.
It is said to restore the balance of your entire body.
Contains antioxidants which are very beneficial for your health because they lower the effects of oxidative stress.
The formula is made with powerful probiotics which provide plenty of health benefits.
It can boost your immunity and improve your digestive system's health.
Cons
Plexus doesn't have a very good reputation compared to some of its competitors.
It is expensive.
It is not a complete solution to all the challenges you might encounter during your diet.
Bloating or gas side effects
Plexus Probio5 Review: Final Verdict
Let's summarize this review now!
Is this product something that you should purchase?
The answer is yes if you want to get a healthy gut and healthy digestive system. Plexus Probio5 formula features many key probiotic strains like lactobacillus acidophilus bifidobacterium longum, acidophilus bifidobacterium longum lactobacillus, and more. Plus, it contains two key vitamins, grape seed, and enzymes.
Collectively, this formula is proven to be effective for ensuring a healthy and stronger immune system. The supplement does not cause any nasty side effects or health problems as such.
So, please feel free to purchase and try this probiotic supplement. You can buy it from Plexus worldwide website.