We all want to have a healthy lifestyle; and that includes regular exercising and maintaining a healthy diet. A healthy diet constitutes proteins, carbohydrates and vegetables. Daily intake of greens is thus important as they provide many nutrients and vitamins that our body needs to function properly.
Greens powders are a way to increase your fruit and vegetable intake with minimal effort however, they don't replace whole foods. Whole fruits and vegetables provide significantly more fiber per serving than most greens powders, which is important for digestive and cardiovascular health. Eating greens as well as other fruits and vegetables has been linked to numerous health benefits, from reduced risk of cardiovascular disease to slowing cognitive decline.
8 Greens is an effervescent tablet containing plant extracts from superfoods. It combines the best parts of eight different foods to greatly increase the nutritional value of your daily diet. 8Greens is a way to get your greens on-the-go.
According to the founder of 8 greens, 87% of Americans don't get their daily minimum required amount of green vegetables. 8 greens supplement was thus formulated to bridge this gap.
In this 8 greens review we do a deep dive into the key ingredients and components in 8 greens as well as their role in producing general well-being and promised additional benefits.
Does 8 greens offer the nutritional value it claims? Is 8 greens worth buying? Let's dive into this 8 greens review so you can find out if it's worth adding to your supplement routine.
What is 8 Greens?
8 Greens is an effervescent tablet containing plant extracts from superfoods often missing from the average American diet.
Other green superfood supplements worth looking into include NutraChamps Super Greens, Raw Greens Superfood Powder, and Green Surge.
8 Greens has grown very popular due to the convenient method in which it is consumed. Most people don't want to use green powders because they don't like the taste, so 8 Greens created tablets and gummies as an alternative.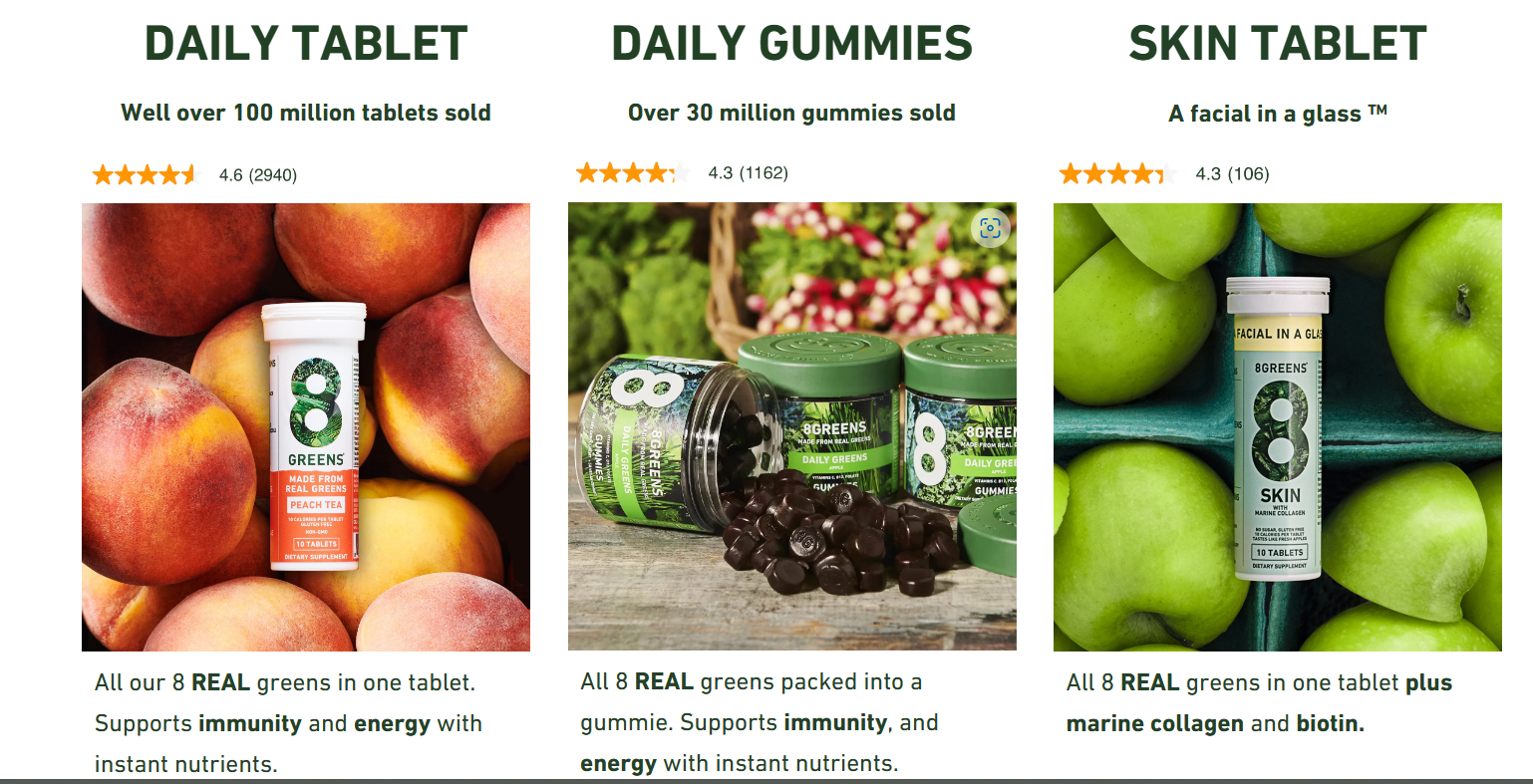 Dawn Russel is the founder of 8 greens supplement. While whole foods contain a wide variety of nutrients, phytochemicals, fiber and water too, Russell insists that this supplement is a booster that contains all essential nutrients and vitamins.
In addition, since heat destroys nutrients, the company uses a patented dehydration process that protects each ingredient's valuable nutrients.
Every 8 Greens tablet contains as much:
Vitamin B5 as 15 cups of broccoli.
Vitamin C as six cups of navel oranges.
Zinc as three cups of uncooked peas.
Vitamin B12 as seven glasses of milk.
Vitamin B6 as six cups of raw spinach.
8 Greens are available in three flavors: Lemon-Lime, Blood Orange & Melon. Some people would rather chew their vitamins than drink them, so the company also sells gummies that are perfect for children and adults who need a green boost to their diet.
According to the website, the antioxidant-rich supplement will:
Improve energy.
Boost immunity.
Provide essentials, vitamins, and minerals.
Supply zero sugar.
Supply 15 calories or less in each serving.
Who is Dawn Russel?
Dawn Russel is the founder and CEO of 8 greens dietary supplement. She is married to an English aristocrat and is a 'working mother who understands that life is busy and wonderful, but also stressful'. This gives her the benefit of having access to those in the upper end of society but also being accessible to the everyday folk she will rely on to buy her products.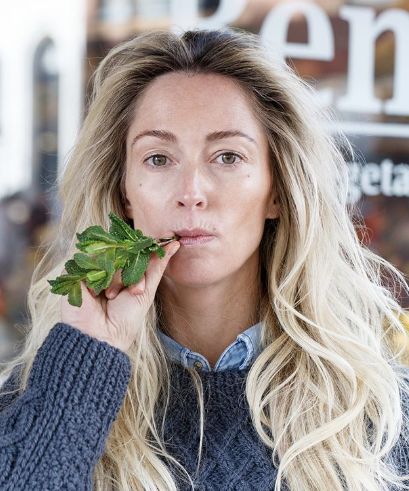 Her journey into the world of supplements was inspired by her own experience being diagnosed with stage III lymphatic cancer aged just 25 and subsequent recovery. She changed her diet to include whole foods and plenty of leafy green vegetables. However, she is quick to assure that she is not promoting a link between her health today and taking the supplement.
Russell says she wants to make it easier for even the biggest refuseniks to add more greens to their diets with her fizzy tablets, which contain extracts of eight phytonutrient-rich dehydrated greens to be exact: spinach, kale, aloe vera, wheatgrass, blue green algae, barley grass, chlorella and spirulina.
8 Greens Ingredients
The 8Greens Effervescent tablet is made from eight organic greens.
Spinach
Kale
Organic aloe vera
Organic Wheatgrass
Organic Blue-green algae
Organic Barley grass
Chlorella
Spirulina
We will look at each of these ingredients and their nutritional value.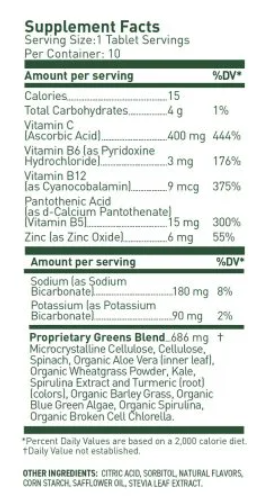 The actual ingredients are listed (deep under the product specifics): Micro Crystalline Cellulose, Spinach, Organic Aloe Vera, Organic Wheatgrass Powder, Kale, Spirulina Extract and Turmeric (color), Organic Barley Grass, Organic Blue-Green Algae, Organic Spirulina, Organic Broken Cell Chlorella, Citric Acid, Sorbitol, Natural Flavors, Corn Starch, Safflower Oil, Stevia Leaf Extract.
Spinach
Spinach is a leafy green vegetable first grown in Persia. Spinach contains large amounts of insoluble fiber. According to research published in Acta Scientiarum Polonorum, insoluble fiber can benefit your digestive system, prevent constipation, and promote regularity.
Spinach contains vitamin C, iron, potassium, vitamin E, and magnesium. Spinach also has several health benefits. It contains vitamins and antioxidants that protect from chronic diseases and promote brain, cardiovascular, and eye health. It visibly supports healthy aging, better circulation, and hydration.
Kale
Kale is a nutritious food rich in antioxidants, vitamin C, vitamin K, and beta-carotene. It also contains nutrients that can support eye health, weight management, heart health, and more.
Research reviewed in the Journal of Agriculture and Food Chemistry also suggests that kale is the most nutrient-dense food in existence. Those nutrients include quercetin and kaempferol, two flavonoids that may have powerful anti-inflammatory and anti-viral properties.
Organic Aloe vera
Aloe vera is a succulent plant that has been used as medicine for centuries, most commonly to treat sunburn, rashes, burns, wounds, and other skin conditions. It may also help ease digestion problems like heartburn and constipation, reduce blood sugar in people with diabetes, fight cavities, and condition and strengthen hair.
Aloe vera is widely available as a distilled juice, dietary supplement, and ingredient in shampoos, face creams, body lotions, and skin ointments. Although the stems of the aloe plant and the gooey gel inside can be eaten raw or cooked, they may be unsafe if consumed in excess.
Organic Wheatgrass
Organic wheatgrass powder is a terrific source for essential vitamins and minerals. Wheatgrass is the freshly sprouted first leaves of the common wheat plant, used as a food, drink, or dietary supplement.
A 2018 study noted that the proteins and antioxidant agents in wheatgrass might help prevent diseases, reduce oxidative stress and boost the metabolism and storage of energy.
Organic Blue-green algae
Blue-green algae are a group of bacteria.
Blue-green algae produce blue-green colored pigments and are high in protein, iron, and other minerals. They grow in saltwater and some large freshwater lakes. They have been used for food for several centuries in Mexico and some African countries. In the US, they've been sold in supplements since the late 1970s.
People use blue-green algae for treating high blood pressure and as a protein supplement. It's also used for high levels of cholesterol or other fats (lipids) in the blood, diabetes, obesity, and many other conditions. But there is no good scientific evidence to support these other uses.
Organic Barley grass
Barley grass, sometimes called barley greens, comes from young barley plants that haven't started making seeds. During this stage of the plant's life, it's full of nutrients that help it grow larger leaves and seeds.
It is a popular ingredient at juice bars, where it's added to juices and smoothies in a powder form. This super green has many essential nutrients, including vitamin A and as much vitamin C as some fruits.
Barley Grass benefits include controlling blood sugar levels, providing the body with needed fiber, supporting healthier digestion, supporting weight loss, regulates cholesterol, fights cancer and prevents ulcerative colitis. Other benefits include boosting immunity, UV radiation protection, acting as a natural detoxifier and reducing stomach acidity.
Chlorella
Chlorella is a nutrient-dense freshwater algae. It's a close cousin to the saltwater-sourced spirulina.
Researchers first studied chlorella after World War II as a potential protein option for a growing global population. It has higher levels of vitamins and minerals than spirulina and is a better source of healthy fats like omega-3s.
Chief among chlorella's benefits is that it may help prevent the kind of cell damage that increases your risk of diabetes, heart disease, Alzheimer's disease, and certain cancers. This is thanks to its high levels of antioxidants like vitamin C, omega-3 fatty acids, and carotenoids like beta carotene, which combat free radicals.
Spirulina
Spirulina is a blue green alga and is believed to be one of the oldest life forms on Earth. Spirulina has a bitter taste, so people often mix it with yogurts, juices, and smoothies to improve its flavor. Spirulina is commonly available as a supplement at health food stores.
Spirulina offers many health benefits which include lowering cholesterol levels, enhancing immunity, increasing red blood cell count, anti-inflammatory properties, protecting the liver, reducing the toxicity in the kidneys, controlling bronchial asthma, and enhancing the supply of antioxidants.
Other Ingredients
Although the main ingredients are these eight real greens, there are other ingredients to improve the flavor and texture. Some of these include safflower oil, citric acid, corn starch, natural flavors, stevia leaf extract, and sorbitol.
Customer Reviews on 8 Greens
Now you know about the ingredients and health benefits of 8 greens, what do real users say?
The 8 greens supplement has 2,902 customer ratings and scores an overall rating of 4.6 stars out of 5 stars.
So, let's take a look at some of these reviews!
I take this every morning along with my daily mandarin !!! Love the flavor and the slight fizz. I don't feel like I can conquer the world or anything, but I feel much better about getting some greens in daily diet which I don't always do. I first started this as a QVC Today's Special Value, and I think it was $58.00. They didn't have it for a while so I started purchasing on Amazon. It was $68.00, and now it's $78.00?? I kind of feel like someone is price gouging somewhere along the line at present. I went ahead and ordered at $78.00 but am unsure if I can continue to do so at that price. I think this is a good product, and I would hate to stop using, but in these uncertain financial times price will dictate whether I can continue.

William Gordon
My biggest concern is that the greens listed in the tablet concentration are not all organic which means you will also be ingesting the similar levels of pesticides. I gathered this from reading the ingredients on the bottle. Some were organic others were not.

Marinjoe
As the same as most people, I don't eat enough vegetables. A friend of mine got recommended 8Greens from a nurse while she was in the hospital for her surgery. I read about it and wanted to give it a try. I'm on my 2nd bottle and like the product. It seems to act as a body cleanser also. Since it has B12, I take mine in the morning after breakfast. It gives me energy throughout the day. This product is worth every penny.

5 stars
Potential Side effects
Some reviewers report not being able to take the tablets because it is sweetened with artificial sweeteners, and this is found to exacerbate conditions such as IBS. Amongst the Greens side effects, this is far and away from the most often reported.
I would advise anyone looking to take any supplement to look carefully at the ingredients and to avoid it if you know it is likely to have an undesired response.
Where To Buy 8Greens
You can find 8 Greens products on the website. The company offers a monthly package for $30, which comes out to $1 a day for their supplement.
While it might seem like a lot of money at first, this is not too expensive if you take into account that these effervescent tablets give you your daily dose of green vegetables. As a matter of fact, for a dietary supplement, 8 Greens is affordable.
If you still want to save more money, 8 Greens offers a VIP subscription service, which saves you 15% on every order. Still, you can always cancel the subscription if it does not fit your needs anymore.
You can also find 8 Greens in certain retail stores, like Nordstrom and Bloomingdale's, and online on Amazon.
Pros and Cons of 8 Greens
Pros
This greens blend is an efficient way to receive all the greens that are lacking in the average diet without any prep time.
8 Greens has no artificial sweeteners or additives and does not contain any simple carbohydrates.
8Greens effervescent is easy to take everywhere and comes in many flavors.
Not many products contain blue-green algae, aloe vera, and spirulina extract.
Less expensive than buying or making green juice every day.
Some people with autoimmune and chronic diseases such as fibromyalgia feel 8Greens helps them deal with their symptoms and give them a nutrition boost.
Could help people with anemia and give them an alternative to taking iron supplements which tend to have difficult symptoms such as constipation.
Cons
It does not replace any part of a balanced and healthy diet.
You can incur more costs to obtain vegetables that you could eat daily.
Many of the health claims are based on homeopathic remedies, which have mixed reviews from official medical sources.
The effects of many supplements vary based on the individual and their lifestyle and dietary patterns.
If you are taking these leafy green vegetables in effervescent tablets, you will not receive as much fiber.
The weight-loss claims might not work for everyone, particularly if they are still eating junk food, and do not reduce their sugar intake.
Is 8 Greens Worth Buying?
When it comes to nutrition there's no such thing as a 'magic pill' – it's always better to source your nutrients from real food over supplements where possible. However, this effervescent pill may be a booster of essential nutrients to many who do not consume the recommended amount of greens.
Many dieticians recommend you aim for at least 30 different plants in your diet each week – not all of us have an organic food budget, as such this supplement may come in handy.
There is clearly a benefit in the convenience of tablets like 8Greens. Greens powders can be a useful way to get additional nutrients into your daily diet, especially if you have issues with digestion. The tablet form of 8 Greens is super convenient, more so than the old tubs of powders, so on days when you might be jumping on a flight or heading out for dinner where you know the vegetables may be scarce, they could be useful.