Have you heard about intermittent fasting? Well, it's a new concept to many.
Nevertheless, it has proved to be an effective and efficient way to lose unwanted weight.
Are you also looking for weight loss?
Or, are you now wondering whether or not intermittent fasting will be right for you? Are you tired of following the common weight loss programs that surely don't work? So, do you simply to try intermittent fasting?
If yes, then DoFasting app may be ready to give you all the guidance to start with. Before you find out whether it's right for you or not, let's check this article for more details.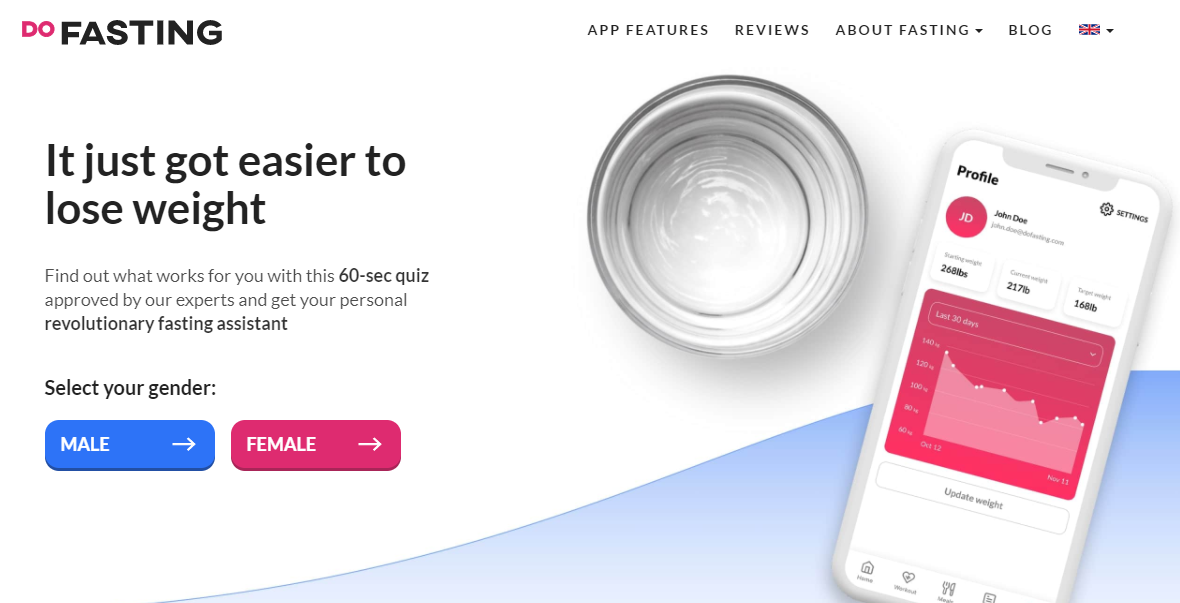 What Is Intermittent Fasting?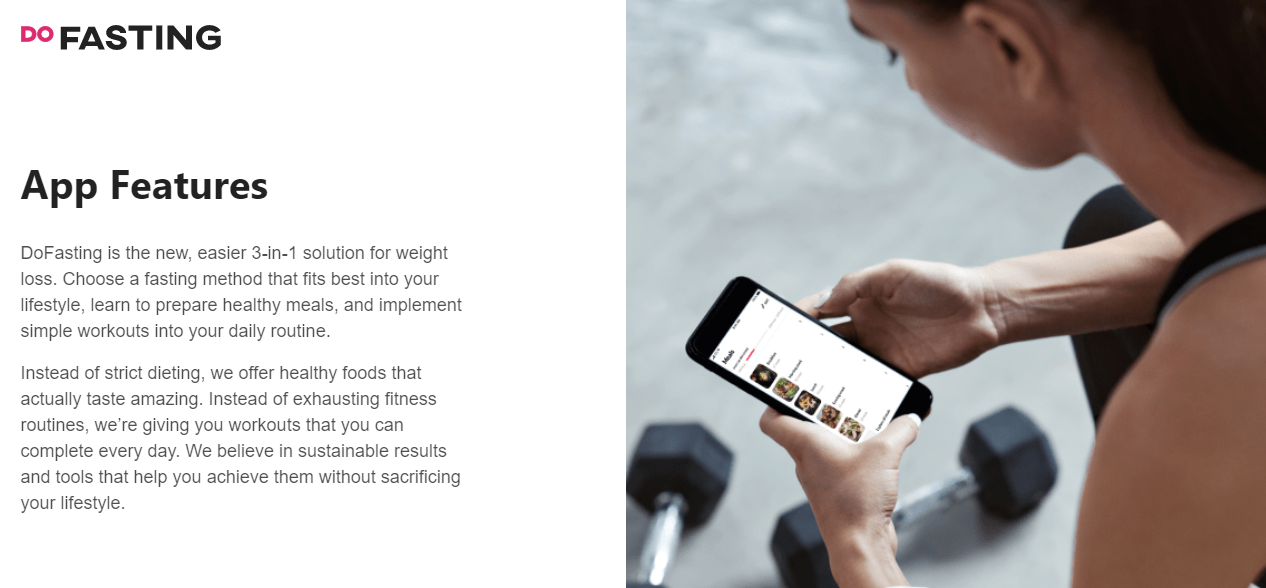 Intermittent fasting has already emerged as a top-notch diet trend nowadays. So, what is it all about?
Note, it involves eating within a specified time limit during the day. In most cases, it has been found that dieters use a typical 16:8 schedule i.e. they do fasting for 16 hours per day and eat their meals within the remaining time frame of eight hours.
This process can offer some incredible health benefits. For example, intermittent fasting ensures weight loss, optimized hormones, mental sharpness, enhanced longevity, and lowered inflammation, etc.
Now, for your quick reference, DoFasting's app also promotes this intermittent fasting process. But, whether it's safe, effective, and suitable for your lifestyle — can be found in this review.
Quick Overview of DoFasting App
As you already know that DoFasting app will simply provide you guidance with intermittent fasting. To be more precise, it will give you various intermittent fasting tips.
The app offers a 3-in-1 solution. To be more precise, it does not simply promote intermittent fasting, but also it will even provide you some nutritional guidance as well as the workout regimens to follow.
The best part is that DoFasting app will personalize everything for you! For example, it will show which intermittent fasting mode will be best suited for you. Plus, you will also be receiving custom advice tailored to your weight loss plan. Plus, the app promotes healthy dieting, instead of strict dieting and insane workouts
With effective workouts, meal suggestions, and healthy dieting schedules, DoFasting's intermittent fasting app guidance will be apt for you!
How to Get Started?
To get started, you will be asked to complete a quick survey. The DoFasting team has created a short survey that will help them to come with a custom-tailored weight loss plan. This will be based on your body type, lifestyle, weight loss goals and day-to-day diet.
Once you complete this survey, the app will be able to formulate a plan (including intermittent fasting, nutrition, workouts) tailored to meet your weight loss process goals.
You will also be offered a full breakdown of what you can expect from DoFasting. The app uses various statistics and real-time results from real people who have the similar profiles like you.
Based on all this data, the app will populate the results for you!
This is a really cool feature as you can easily access it even without signing up.
The app will also let you know how long the app will take you to reach your desired weigh loss goals, results you can expect after the very first week, daily calorie recommendations, your current BMI, your recommended water intake and meal prep recipes, and daily workout tricks.
DoFasting Plan Reviews
DoFasting app has come up with three different plan options as mentioned below.
Annual Plan – you will be charged $264 annually
6-Month Plan – you will be charged $92 every six months
3-Month Plan – you will be charged $66 every three months
Once you select the desired plan you want to go for, you'll now need to create an account by providing them your email address and them complete the purchase by giving your credit card and debit card info.
Know About the 3-In-1 Solution
As you already now know that DoFasting app is not simply a fasting app.
Instead, it maintain a complete 3-in-1 solution. As a part of this solution, users will receive various meal suggestions and workout tricks from an experienced fitness trainer. The exercise routines found here will not be same as the other available dedicated fitness apps. Users who are looking for fitness-focused weight loss programs may have to go for other apps.
What's more, DoFasting will also attempt to integrate various healthy meals into your lifestyle for the best results. There are even many meal suggestions to fulfill your delicious healthy option preferences.
DoFasting's Intermittent Fasting Schedule
Most of the fasting programs currently available on the market are designed to provide you guidance on when to eat, how much to eat, and what to eat.
But, none of these fasting apps will tell you what's the ideal time to eat. Here's where DoFasting app makes a difference. This app will help you to know the intermittent fasting options and how to lose weight using this process.
To be more precise, this app will give you meal recommendations from time to time and ideal time of eating these meals.
DoFasting app will also allow to log your calorie intake, water tracker, and steps to follow. This entire process will surely create your motivation boosts.
Weight Tracking Program
It's very important to maintain the right activity to improve overall health, fitness, and wellness. That's why DoFasting has come up with various easy yet effective exercise routines to keep yourself as healthy as possible. And, at the same time, you can continue to shed off your extra weight.
You can now choose from a range of workouts, including:
Mobility
Upper Body
Lower Body
Abs
Chest + Back
Arms
And more
These workout schedule is easy to follow yet effective.
Challenge Mode
Do you want to know about the challenge mode?
This mode will simplay add some interactive, unique, and a fun little challenge to your intermittent fasting. Challenge Mode has a wide range of programs that are designed to challenge your health progress.
For example, please feel free to challenge your body for either 7 days, 14 days, or 28 days. In all these challenge modes, DoFasting will continue sharing with you the right fasting advice, video tutorials, fasting tips, meal recipes, training routines, any eating disorders, and more.
You can gradually upgrade yourself to the "advanced" challenge mode. This mode allows you to set your own fasting times as well as you can even prepare your own plan.
Progress Calorie Tracker
With this Progression Tracker feature, you will be able to know your fitness cardio level. Plus, this feature will even work as the calorie counter for you! The good part is that you can view the progress daily, weekly, monthly, and yearly.
Do Fasting App Review: Key Features At a Glance
The app promotes Intermittent fasting.
Intermittent fasting can offer both physical and mental health benefits.
You will have access to a wealth of information including meal plans, workouts, and fasting.
Followed by various health professionals and fitness experts.
It tracks your specific intermittent fasting results, heart pumping, resting metabolic rate, and much more too.
It helps you reduce your food cravings and ensure calorie reduction.
How to Get DoFasting Release Versions?
You can easily get the release version of this app in two ways! You can either download it simply via the DoFasting official website. Alternatively, you can also get it app through App Store for iOS or Android.
The Final Verdict: Is DoFasting Legit and Worth Trying?
The app is easy to use, safe, and legit. With the right combination of intermittent fasting, nutritional diet, and exercise advice, it will help you achieve your weight loss milestones very easily and efficiently.
First of all, you will need to complete the 60-second quiz where it will ask your age, sex, work lifestyle, height, current weight, and weight loss goals. Based on this assessment, it will help you to follow the right steps to follow next. The app will show you various intermittent fasting plans.
Next, you will be asked to complete the registration, including the payment information. You may opt for a subscription for three months, six months, or 12 months. You must complete the registration, select your plan, and complete the payment to get all the tips.
The only problem is that the DoFasting app has no trial option and the plan pricing is on the higher side.