Have you heard about the prestigious Lumin brand?
This company is basically a Los Angeles-based skincare start-up that has come up with diverse range of skin care products.
Lumin skin care brand aims to provide men the facility an easy way to take care of their skin as our skin is extremely delicate.
Lumin brand has been featured in a number of leading publications, for example, Rolling Stone, Vanity Fair, and Vogue.
If you are now interested to know about this brand and its skincare products, then you have surely landed on the right page. Please keep reading and know more about this topic in the sections below.
Lumin Skin Care Review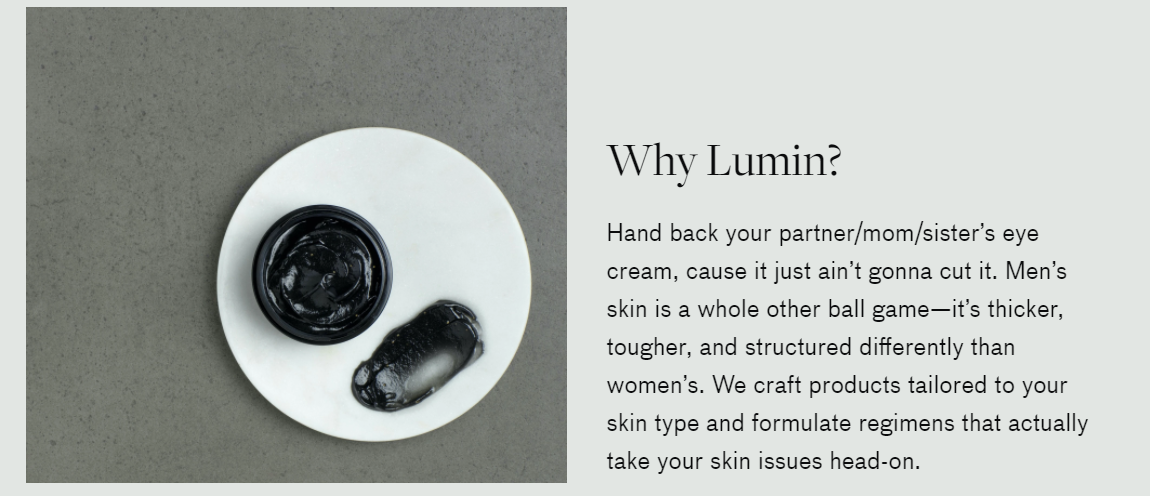 Does Lumin Skin Care process is same as the other available brands in this category? Or, do you want to find out what's unique about this skincare brand?
Well, Lumin attempts to creates a personalized men's grooming regimen.
As you probably know that everyone of us has a different skin care needs. So, based on an individual's requirement, the brand has come up with various product that will allow you to pinpoint your top skincare concerns.
Some of the common skincare concerns include the extreme skin dryness, wrinkles, dark circles under your eyes, signs of aging, acne, scars, and clogged pores, etc.
For all these common skin care problems, Lumin has come up with the right solution. These products for men will address your skin type and concerns. In the next sections, we will talk about the three most popular skin care products launched by the brand.
Lumin Charcoal Cleanser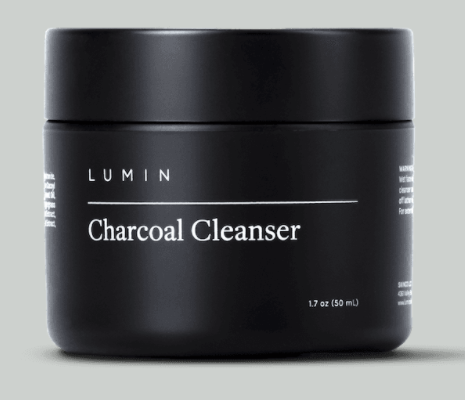 The No-Nonsense Charcoal Cleanser is aimed to be your perfect everyday face wash.
If you are looking for a good-quality and effective face wash product, then this product will be apt for you. The main ingredient of this product is nothing but activated charcoal
Other key ingredients of this product include rose flower oil and centella asiatica extract. These ingredients will safely remove all excess dirt and oil buildup from your skin and clogged pores.
As a result, you will enjoy a healthy, smooth, and supple skin. This cleanser has already achieved good popularity because it's highly effective and extremely lightweight.
You are recommended to use it twice a day if needed.
Lumin Moisturizing Balm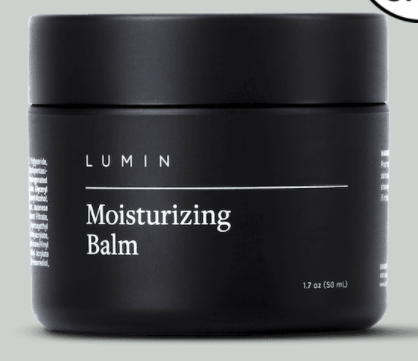 It's a premium-grade Moisturizing Balm for men. Please note that moisturizing should be the integral part any successful skincare routine.
If you start using this balm, it will immediately add a protective barrier over your face and further prevent skin damage. In addition to it, it will even keep and maintain your skin pH in balance.
The formula boasts a blend of various natural ingredients, such as apple extract, ginger extract, and meadowfoam seed oil.
Dark Circle Defense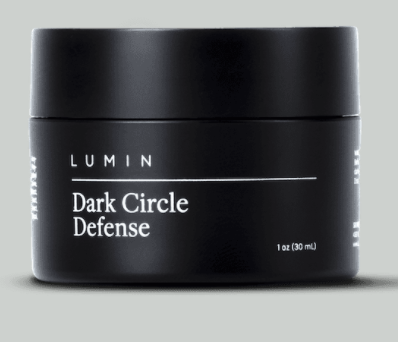 Lumin brand has launched this skin care product to reduce the under-eye discoloration. It can also be used for treating wrinkles and puffiness. Lumin recommends to use dark circle defense to use twice i.e. in the morning and before bed
Reload Exfoliating Rub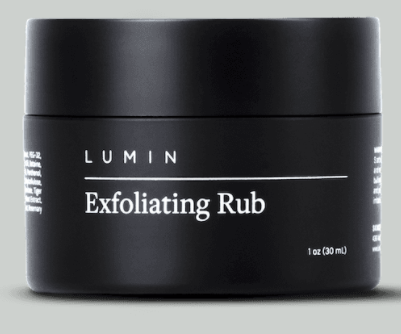 This scrub features an innovative and advanced formula. To be more precise, the formula has rosemary leaf extract and charcoal.
Are you now wondering what does this product actually do? Well, Lumin's scrub will gently remove impurities from the skin. As a result, it will reduce the common skin problems like break-outs, clogged pores, acne, irritation, and signs of aging.
Anti Aging Products

Lumin brand has launched two excellent anti aging products, such as Anti-Wrinkle Defense serum and After Hours Recovery Oil.
Note, After Hours Recovery Oil will ensure extreme skin hydration. Whereas, Anti-Wrinkle Defense serum will reduce wrinkles.
Lumin Skin Care Products Key Ingredients
We will now discuss the key ingredients usually found in the Lumin Skin Care line. The key ingredients include activated charcoal, shea butter, green tea leaf extract,ginger root extract, licorice root extract, and rosemary leaf extract.
For example, Ginger root extract is a key ingredients of the following Lumin Skin Care products, such as No-Nonsense Charcoal Cleanser, Dark Circle Defense, and Premium Moisturising Balm.
You must already know that Ginger root extract offers excellent anti-aging benefits.
To be more precise, it can inhibit collagen degradation. Note, collagen is the protein that keeps our skin strong, firm, and youthful.
Lumin skin care products contain ginger root extract for its antioxidant and anti-inflammatory properties too.
Activated charcoal, which can be often found in the Lumin Skin Care product line.
For example, No-Nonsense Charcoal Cleanser and Refreshed Exfoliating Buff both have activated charcoal which allows you to get rid of all the toxins and impurities stored insider tiny pores.
Note, activated charcoal has proven benefits when it comes to purify and detox skin.
All Lumin Skin Care products feature another potent and natural ingredient i.e. green tea extract. The key component of green tea extract is polyphenol epigallocatechin gallate or EGCG.
Note, EGCG acts as an antioxidant and removes free radicals.
Lumin skin care product range has included this ingredient (green tea extract) for its potent skin-soothing and anti-inflammatory properties.
We have talked about premium moisturizing balm before. Do you know it has shea butter? Shea butter is nothing but the fat extracted from the nuts of the shea tree.
It acts as an emollient that will soften and soothe the skin. Not only it will balance your skin's natural moisture, but also it will increase skin hydration. The best part is that shea butter promotes skin health and does not leave a greasy feeling behind.
Rosemary leaf extract is also found in the No-Nonsense Charcoal Cleanser as well Refreshed Exfoliating Rub. This oil can help your skin to clear excess oil and dirt from pores. Plus, it never causes dryness. Rosemary leaf extract is even rich in antioxidants and that's why help it protects the skin against signs of aging.
Lumin's No Nonsense Charcoal Cleanser, Dark Circle Defense, Premium Moisturizing Balm, and Refreshed Exfoliating Buff have another vital ingredient i.e. Licorice root extract. It acts as a skin-conditioning agent and improves the appearance of dry and damaged skin.
It reduces skin flakes and restores backs suppleness. It even calms inflammation, brightens skin, and improves uneven skin tone.
How to Buy Lumin Skin Care Products?
In the previous sections, we have revealed Lumin skin products that are aimed to fulfill your skincare needs. Are you now wondering how you can purchase these products?
Lumin Skin Care products must be bought through their official website. The brand offers various subscription offers. For example, if you are a new customer who is about to use the product for the first time, then you may choose the free trial.
For returning customers, there are two subscription models available including bulk purchase (6 month supply) and one time purchase (2 month supply).
Is There A Return Policy?
Lumin Skin Care products are supported by a return policy. To avail this policy, you will need to contact the customer service, share your order number, and provide return reason to kick-start the return process.
Pros
100% cruelty free products
Features powerful ingredients like tea tree oil, hyaluronic acid, and moisturizing balm
Manages and fulfills your skin needs
Various flexible subscription box options available
Cons
Lumin Skin Care – Final Verdict
Lumin skin care brand is aimed to fulfill men's skincare needs. The brand is reliable and trustworthy. To date, they have launched so many versatile product options, starting from scrubs to moisturizing balms.
With regular routine usage of these products, you will enjoy a soft, delicate, and supple skin for sure! Plus, these products can even treat your aging problems as well.
There are many subscription plan box options available. Plus, you can avail of the free trial option in case you are a new customer.
What's more, the company has ensured a hassle-free and seamless return service. However, the products are a bit expensive. But, they are worth trying!