Dr. Kellyann is the creator of the Bone Broth Revolution, which comprises collagen-based supplements, meal plans, and cleansing kits.
According to the doctor, bone broth and collagen have the ability to improve health while reducing inflammation through "concentrated healing." These products and programs also claim to help you lose belly fat by enhancing whole-body health.
Bone broth has become quite popular and one of the latest health products that everyone wants to have. Bone broth is said to help boost your overall health, especially your digestive system and immune system.
The bone broth diet is a combination of intermittent fasting and the Paleo diet. Dr. Kellyann Petrucci, a naturopathic physician and nutrition consultant, popularized the 21-day bone broth diet regimen.
Let's learn more about it:
What is Dr. Kellyann Bone Broth?
Dr. Kellyann's bone broth comes in liquid and powder forms which makes it easy to implement into your diet, whether it is the paleo diet or keto diet.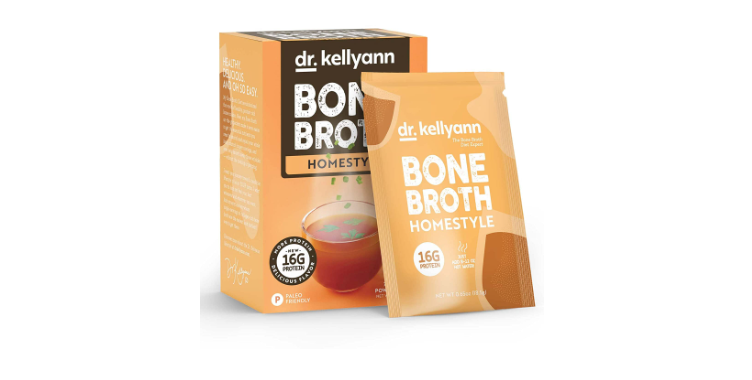 Dr. Kellyann's Bone Broth is a delicious bone broth made from slow-simmered chicken bones, grass-fed beef bones, and non-GMO vegetables. This broth not only boosts the health of the GI tract, but also has all the amazing benefits of regular bone broth.
It is know for providing important vitamins and minerals, strengthening the immune system, fighting inflammation, improving joint health, promoting weight loss, and improving sleep and brain function).
It contains no added sugars and comes in different spices including a chocolate protein powder form. There are many flavors to choose from, for example, chicken bone broth, collagen and bone broth, frozen bone broth, beef bone broth, and many more.
Bone broth has gained popularity as a supplement and a collagen-rich food source. A wrinkled skin signifies aging or exposure to the elements, and collagen intake might help alleviate these visible conditions.
One experiment demonstrated peptides derived from bone broth boosted cell viability by 60% after exposure to UVB radiation. It concluded that these peptides have potential utility as an anti-wrinkling agent. This was documented in the Korean Journal for Food Science of Animal Resources.
The bone broth by Dr Kellyann is supposed to act as a source of collagen, which happens to be one of the main components that are essential for maintaining functioning ligaments and tendons.
Original research published in a 2019 article examined amino acid concentrations after participants ingested different collagen and dairy protein sources. General consumption increased levels of amino acids used in collagen synthesis (most notably glycine and leucine).
According to Canadian Family Physician intermittent fasting is a form of time-restricted eating used by many to lose weight or help manage their current weight. Dr. Kellyann's Bone Broth diet programs use bone broth to replace snacks and meals during intermittent fasting to promote weight loss.
A systematic review of 27 trials searched for evidence to support intermittent fasting as a treatment for obesity. While it mentioned that those trials were small and not long in duration, the article stated that intermittent fasting showed promise as a potential treatment for obesity.
Bone Broth Flavors
The flavor selection will depend on what type of bone broth packets you use.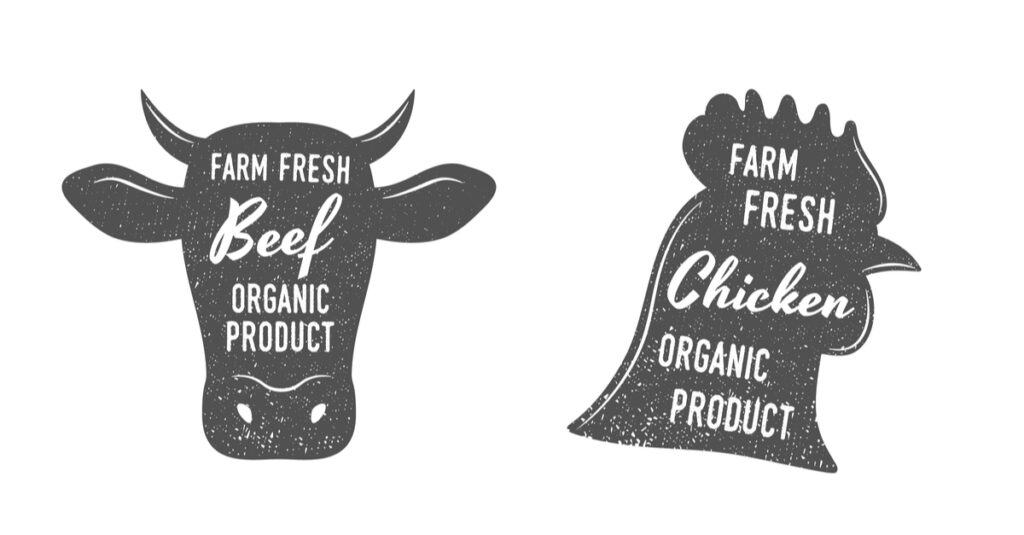 The flavors include beef broth, chicken broth, and the AIP (Auto-Immune Protocol) chicken flavored Dr. Kellyann Bone Broth recipe.
You can also purchase Bone Broth Protein packets in either chocolate or vanilla flavors. Those are the flavor options available if you buy the one, three, or five-day Cleanse & Reset kit options (note that the reset kit also comes with other packets, including lemon and super berry flavors).
The largest selection of flavors is available in the Dr Kellyann's Powdered Bone Broth products. Flavors in this line include French Onion, Homestyle, and chicken for the Gut & GI Support.
Who is Dr. Kellyann Petrucci?
Dr. Kellyann Petrucci is a certified nutrition consultant and naturopathic physician with over two decades of clinical experience. She discovered the ancient power of collagen and bone broth to heal the gut and slow aging while studying biological medicine in Switzerland at the Marion Foundation and Paracelsus Clinic.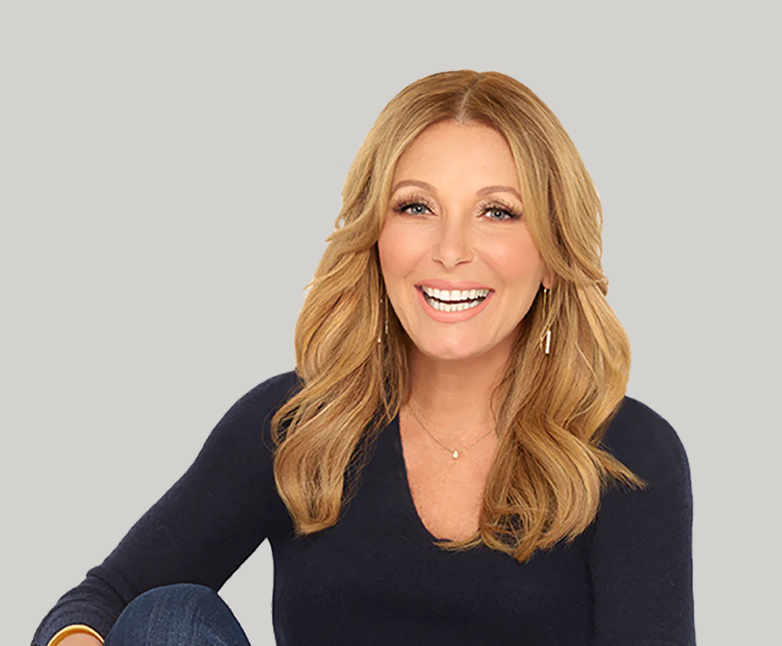 According to her official website, she strives to reach beyond her patients. This has inspired her to write several books, including her New York Times bestseller, Dr. Kellyann Bone Broth Diet.
Dr. Kellyann products are produced under Dr. Kellyann LLC. Dr. Kellyann Petrucci founded the company, and she gets help from:
Jennifer Bonde, the CEO
Frank Kinney, the CFO
David Urman, the President & CRO, to run the firm.
Dr. Kellyann Bone Broth Diet is a nutrition plan that uses intermittent fasting and bone broth to enhance health and encourage losing weight. Other books, products, and programs she offers claim to help her clients feel more youthful, slow aging, lose weight, heal the gut, and become better versions of themselves.
The doctor produces multiple supplements such as bone broth powders, fiber bars, super smoothie mixes, and detox supplements.
The Bone Broth Diet 
Bone broth soups are an important part of the cleanse and making your own bone broth is really simple. Dr. Kellyann gives you several recipes inside the book.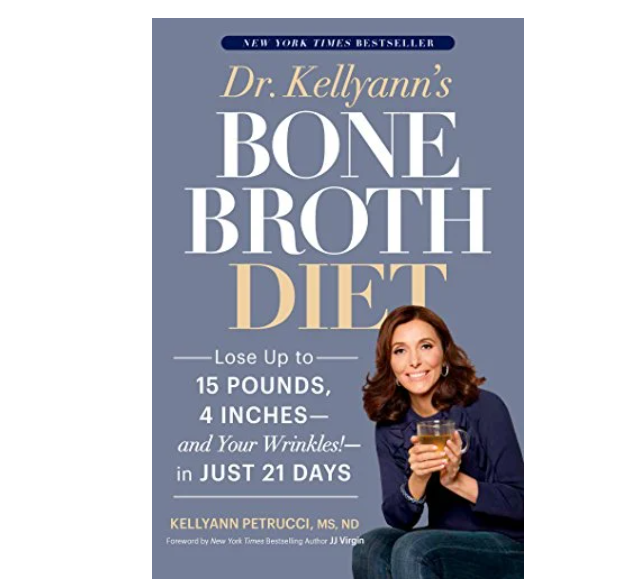 Dr. Kellyann focuses her bone broth diet on specific regimens that she claims will lead to weight loss. The naturopathic doctor advertises the following programs:
5-Day Reset and Cleanse
According to Dr. Kellyann, this program will help you shed an average of seven pounds in five days. In this plan, you will be drinking a green smoothie for breakfast, a berry shake for lunch, a green smoothie in the afternoon, and lemon sips and bone broth for soup at dinner.
10-Day Belly Slimdown
For this product, the average slimdown is 10 pounds in 10 days. Unlike the cleanse, you can use this one within a 17-hour intermittent fasting window; you can sip the broth during your fasting hours.
The additions to this program include collagen shakes for lunch, a broth-loading soup in the afternoon, and healthy dinner.
21-Day Bone Broth Diet 
With this one, the typical weight loss you can expect is 15 pounds in 21 days. The intermittent fasting window here is 24-36 hours, twice a week. Still, you can sip on this broth during fasting hours.
During non-fasting hours, you can have a healthy breakfast, lunch, and dinner.
To follow the Bone Broth Diet, pick two nonconsecutive days per week to do a mini-fast. The other five days are non-fasting days.
On both non-fasting and mini-fast days, you should eat your last meal or snack by 7 p.m.
Mini-fast days
You have two options on mini-fast days:
Option 1. Drink six 1-cup (237-ml or 8-ounce) portions of bone broth.
Option 2. Drink five portions of bone broth, then end the day with a snack containing protein, non-starchy vegetables, and healthy fats.
Either way, you'll consume only 300–500 calories on mini-fast days.
Non-fasting days
On non-fasting days, you choose from lists of allowed foods that fit into categories of protein, vegetables, fruit, and fat.
The regimen is as follows:
Breakfast: one portion protein, one portion fat, one portion fruit
Lunch: one portion protein, two portions vegetables, one portion fat
Dinner: one portion protein, two portions vegetables, one portion fat
Snacks: a one-cup portion of bone broth twice a day
Carbs including fruit and starchy vegetables are very limited to encourage fat burning.
Petrucci does not specify a range of calories for non-fasting days and discourages calorie counting.
Dr. Kellyann Bone Broth Ingredients
Since Dr. Kellyann's bone broth can be either liquid or powder, the ingredients might vary.
The liquid versions of Dr. Kellyann Bone Broth contain entirely whole foods ingredients. We will look at some of the main ingredients common to all the products:
Pastured Meat Sources 
The staple ingredient in all of these broth products is bone broth from organic, pastured meat sources. A protein source that comes from grass-fed meat is far superior to any other source. These meat sources contain healthy fats, as well as other things like amino acids and hydrolyzed collagen.
Collagen 
Collagen is a key player in bone broth products because it makes the bone broth diet work. All the bone broths contain bovine collagen which keep your tissues, bones, and muscles strong.
Bone broth collagen is also great for reducing inflammation and easing joint pain. One study featured in Marine Drugs asserts that collagen peptides can improve metabolism by boosting lean muscle mass.
Protein 
The powder bone broth contains more hydrolyzed collagen than the liquid forms. It also contains things like the amino acid, glycine and lysine among others in larger quantities. Overall, these powder bone broth packets contain 21 grams of protein.
Fiber 
The powder form is often used in smoothies because it comes in chocolate and vanilla flavors. It uses monk fruit extract to lightly sweeten the product. It also comes with a probiotic fiber from chicory root.
Glucomannan
Glucomannan is a type of fiber in the roots of the elephant yam. It absorbs water in your gut upon ingestion, causing satiety, or a feeling of fullness, that prompts you to eat less food.
Research published in Nutrition reports that glucomannan led to weight loss in overweight adults involved in a study. Glucomannan can also promote healthy gut bacteria, lower blood sugar, manage constipation, and balance blood triglycerides and cholesterol.
As a side note, if you are struggling with sugar cravings, this 30-Day Guide will come in handy.
Flaxseed
Flaxseeds or linseeds are popular because of their fantastic health benefits and high nutrient content. These seeds have fiber, omega-3 fatty acids, and lignans to reduce the risk of certain heart conditions. According to Obesity Reviews, flaxseeds can also accelerate the weight loss cycle.
Stevia
Stevia is a sugar substitute obtained from the Stevia rebaudiana plant's leaves. It is a popular plant-based, calorie-free sugar alternative. It also has little to no carbohydrates and doesn't spike your blood sugar rapidly, making it helpful to those with poor blood sugar control.
Nutrition Today reports that most of stevia leaves' minerals are lost when people process it into a sweetener. Another study in Appetite asserts that stevia can help you lose weight if you replace sugar with it in your diet.
Inulin
Inulin isn't absorbed or digested in the stomach. It goes to the bowel and bacteria use it to thrive. These bacteria can improve your bowel function and general health. Nutrition & Metabolism also finds that inulin can prevent the body from having the type of fats that can lead to extra weight.
Other Ingredients
Aside from the above highlighted ingredients, this powder bone broth contains cauliflower powder, salt, onion, turmeric, and reishi mushroom.
Reishi mushroom is a great addition to this formula as it has immune-boosting benefits, antioxidants, and is a powerful anti-inflammatory. It has been part of biological medicine and alternative practices for many years.
The liquid pouches also come in different flavors including coconut, ginger and mint, plain chicken, plain beef, and AIP (autoimmune protocol) chicken.
The staple ingredients in the bone broth include carrots, celery, onion, bay leaves, apple cider vinegar, ginger, and peppercorn. Many of these ingredients, such as carrots, onions, and apple cider vinegar are popular in other bone broths, like Kettle & Fire Bone Broth.
Other rotating ingredients include mint, lemon, coconut, and salt.
Dr. Kellyann Bone Broth Benefits
Some of the health benefits that bone broth offers include better sleep, better skin, less stress, and lower inflammation. Below are some of the notable and proven benefits of bone broth.
Helps Boost Immune System
Bone broth is highly nutritious as it contains a wide array of vitamins and minerals such as zinc, iron, fatty acids, vitamin A, collagen, gelatin, vitamin K, selenium, and fatty acids.
These vitamins and minerals help support our immune systems, particularly vitamin A, which is an antioxidant. Bone broth also promotes gut health, allowing for immune cells in your gut to function more effectively.
In some cases, people experience problems when following regimens like the paleo diet or the ketogenic diet, such as the keto flu. The bone broth can help strengthen your body against such infections and illnesses.
Support Digestive Health
The collagen in bone broth helps heal the gut, preventing and treating things like leaky gut syndrome and irritable bowel syndrome.
Collagen and other ingredients in the bone broth also fight inflammation within the gut and nourish the intestinal lining of your gut.
The amino acids in bone broth, specifically glutamine, thoroughly help heal the gut as well. In fact, a lot of amino acid deficiencies in individuals are linked to intestinal diseases like inflammatory bowel disease (IBD).
Might Reverse Aging and Support Skin Health
The collagen in bone broth is an important ingredient. Consuming high-quality bone broth promotes collagen production, which in turn can help your skin look better.
When it comes to your joints and skin, collagen is essential in maintaining elasticity and strength. That's why bone broth consumption helps fight wrinkles on the skin and leads to shinier, smoother skin.
Collagen is important for older individuals as well as people over the age of 25 who lose more collagen than they produce. Lost collagen leads to wrinkles, fine lines, and aging skin.
Helps You Lose Weight 
The reason why many believe bone broth helps with weight loss is that it is high in protein. When you take the bone broth diet, you will feel more satiety, which will enable you to lose a few pounds of body weight.
Furthermore, bone broth contains healthy fats, which is much better than consuming processed foods or dietary supplements. When you eat healthily and consume bone broth you are sure to lose weight.
You can consume bone broth as an evening snack, a morning treat, or before bed for good sleep.
Protects and Supports Bone/Joint Health
Bone broth contains gelatin, which helps break down collagen in the body. The process increases collagen and allows for bones and joints to have more protection.
The protection is especially important because the cartilage in the joints and bones depletes over time and through use. Bone broth may also help treat and prevent osteoarthritis. Overall, you might even see a reduction in joint pain.
Improves sleep quality
Bone broth contains an amino acid, glycine, which improves cognitive functions, reduces daytime sleepiness, and improves sleep quality at night.
Having bone broth for dinner can help you achieve a good night's sleep.
Customer reviews on Dr Kellyann bone broth
Let us look at some customer reviews.
5 stars
This book is amazing! Changed my life🙏🏼 it helped me lose 15 lbs in three weeks and heal my stomach. It taught me how to change my foods that made me feel more energetic and healthy also decreased my inflammation greatly as I'm learning to continue to learn more. I'm so grateful for this book and all her work to help build our health and bring us to ultimately a better health.

Renee Giovinco
1 star
"The broth tastes awful. It reminds me of the prep you have to drink before a colonoscopy."

Patricia B
4stars
Still have some wrinkles, but the fat is melting away!

I purchased and read this book a long time ago but wasn't committed enough to try the 3-week program. In 3 weeks time, I lost 5 pounds of, 1-1/2 inches from my waistline, 1 inch of thigh circumference, and 1 inch off my upper arms, all the while feeling full, satisfied, energized, and happy. I was not hungry, EVER. Many days I felt as though I could have skipped lunch but stuck with the plan and ate 3 meals per day, plus an occasional snack. I am sleeping better, not feeling any late afternoon "crash," and have enjoyed experimenting with so many new vegetables.

Nancy D
Potential Side Effects
Heavy metal toxicity
Lead may enter plants and accumulate in the bones of animals who ingest them.
Lead in improperly sourced or processed animal bones may leak into the broth during boiling if bones and connective tissue are simmered for a long time.
Gastrointestinal issues
Some people on the bone broth diet suffer from gastrointestinal issues, such as:
Bloating
Constipation
Nausea
Upset stomach
However, this is somewhat debatable because proponents of bone broth argue that glycine and glutamine improve gut health by strengthening the mucosal lining of the digestive system.
Further study is required to validate these statements.
Malnutrition
The bone broth diet, like the keto diet, is not intended to be a long-term answer to general nutritional support.
The main problem is that by limiting the foods you consume; you may be putting yourself at risk of vitamin deficiencies or malnutrition.
Bone health is determined by calcium levels and the quantity of vitamin K and other minerals consumed. The majority of which are found in vegetables and fruits.
Where To Buy Dr. Kellyann Bone Broth
Dr. Kellyann's bone broth is available for purchase on their website.
It is not readily available on other sites or at your local grocery store, but some products are sold on health/wellness websites, such as CVS Pharmacy.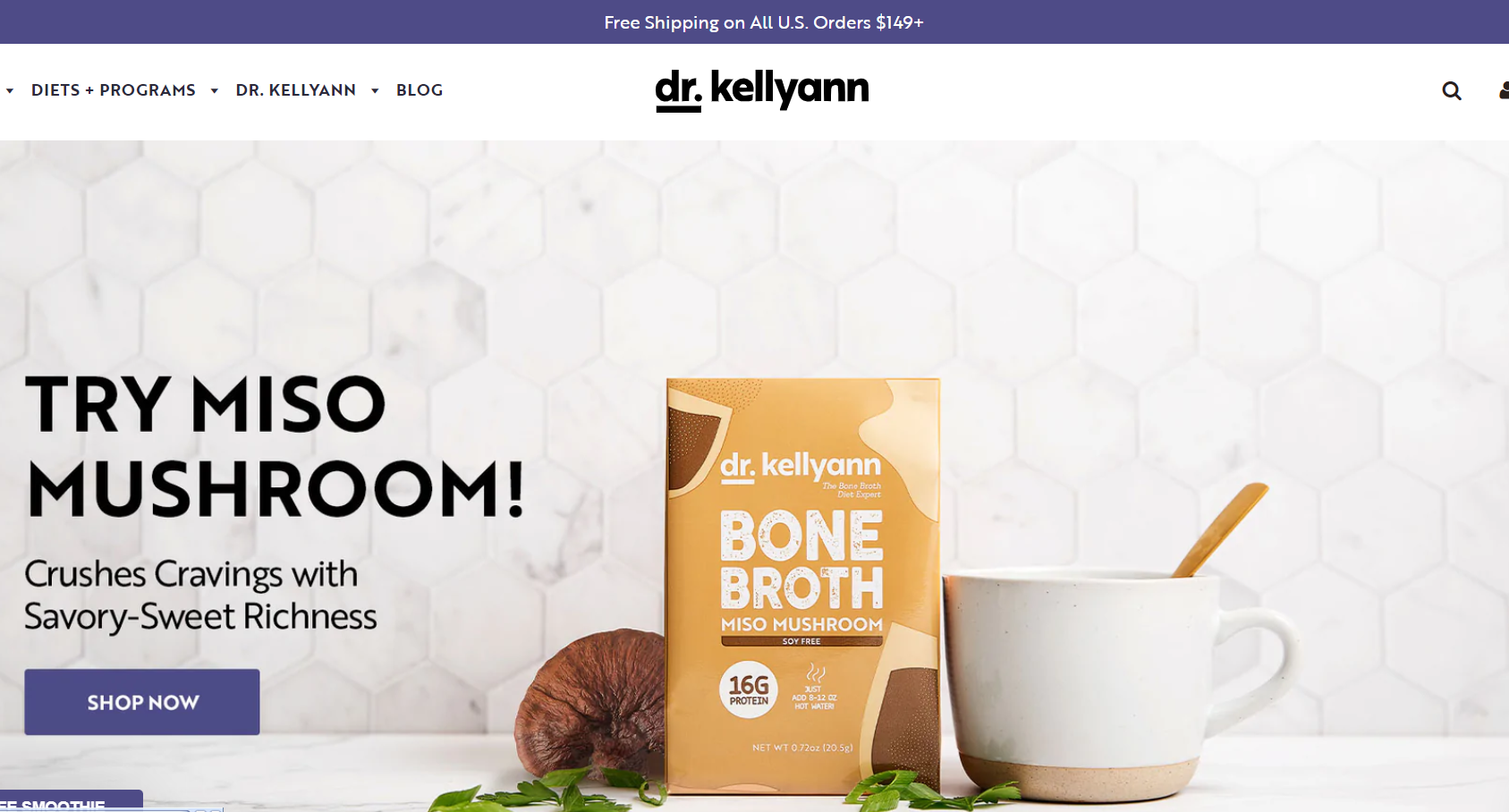 The Dr. Kellyann website contains bundle options as well, making it a more affordable option as compared to other sellers.
The average 6-pack price is $129, a 10-pack goes for $189, and a 20-pack for $359. As you can see, these products are not cheap. Many would consider making their own bone broth instead. You might even be better off getting one at the grocery store.
However, if you truly want to see whether you can experience the benefits of these products, give them a try at least once.
Besides, Dr. Kellyann offers a 90-day money-back guarantee on all products that you are not satisfied with. However, there is a $4.95 processing fee for every return.
Dr. Kellyann Lawsuit
In 2020, Dr. Kellyann was sued by a non-profit organization in California called the Environmental Research Center. The lawsuit alleged that several Dr. Kellyann products, including their bone broth, contained lead levels that required a Prop 65 warning.
Dr. Kellyann appeared to settle the suit. We cannot identify the specific lead levels that caused this lawsuit, but there is cause for concern about a "bone broth diet." If those claims are true, such a diet, even for a relatively short period such as 21 days may expose consumers to unsafe lead levels.
Customer Service
On the ordering page of the company's website, they list their customer care number as 888-871-2155.
Additionally, they have a section containing a contact box, email address (info@drkellyann.com), text number, Facebook support group, and physical address on the main page. They offer weekend hours sales support as well.
Unfortunately, even with these avenues, it seems that the company's customer service is lacking.
Several online reviews state that it is difficult to get anyone on the phone when they call the number and difficult to take advantage of the money-back guarantee.
Pros and Cons
Pros
Available in liquid, powder, and protein powder.
Multiple flavors to choose from.
Provides eight or more grams of protein per serving.
Dr Kellyann offers several diet programs using the products.
Cons
Long-term use could become cost prohibitive.
Some products are more challenging to store.
Conclusion
The products available from Dr. Kellyann seem to contain natural ingredients that are well-researched. The doctor's medical and educational background also makes trusting these formulations that much easier. However, some of the supplements have negative reviews, and these kinds of products may not be suitable for everyone.
The Bone Broth Diet is a 21-day diet plan that combines 5 days of a low-carb, paleo diet with 2 days of bone broth fasting per week.
Though some studies suggest that these dietary approaches may help you lose weight, it's uncertain whether they're better than standard reduced-calorie diets.
Therefore, if one or more aspects of the Bone Broth Diet don't appeal to you, you may do just as well to simply reduce your calorie intake to lose weight.