Are you looking for some healthy meal choice options? If yes, then do not look any further as you have landed on the right page.
SunBasket is designed to provide you with a range of healthy meal kits. The best part about these meal kits is that they are made of organic and clean ingredients.
What's more, they are based on chef-inspired recipes which come from an  award-winning culinary expert, Justine Kelly.
Sunbasket will offer you a wide variety of meal plans which seem to be a very good option. If you are now looking for more details about SunBasket's meal kit delivery services, then please check the sections below.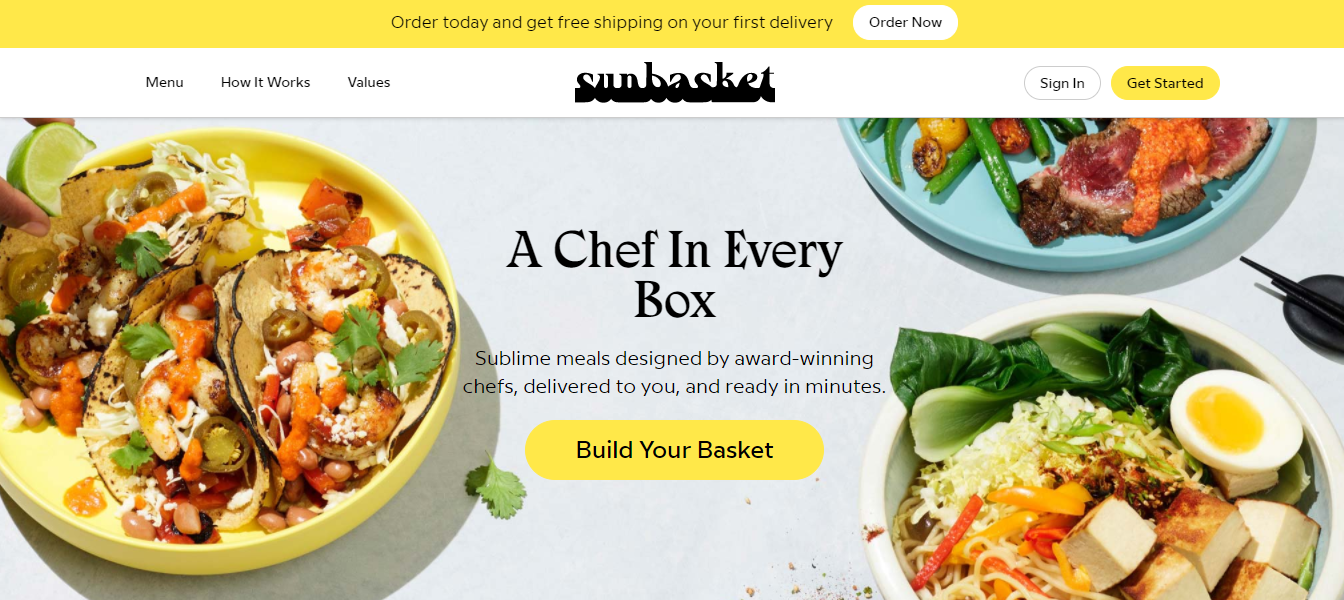 Key Features of Sunbasket Meal Kit Delivery Services
Organic ingredients
Healthy, non gmo, and tasty recipes
One of the best and healthiest meal delivery services
Many options are available for those following special diets
Meal options available for Paleo and diabetics
Generous portions per serving

How Does This Food Delivery Service Work?
Sun Basket is aimed to provide you with a meal kit delivery service. Are you interested to find out what's unique about this food delivery service?
Well, it's all healthy and organic food. The signup process is very simple. Once you have signed up, the next thing is to pick your ideal meals.
Picking the right meals is also simple. And, once that's done, you will opt for the doorstep delivery.
To start with, you will need to visit the official website of SunBasket and sign up. For the sign up process, you will need to share your email address and create a password. You will need these credentials for all future logins.
Now, once your signup process is complete, please pick a plan. In this plan, please do not forget to mention for how many people you need this pre prepped meals, how many recipes you need per week, and the most important thing — please mention your dietary preference you want.
For example, if you are carb conscious, then you must mention it while picking the plan. Similarly, if you are going for simple ready meals or special paleo gluten free meals, please make sure to mention that while selecting the plan.
Finally, you will need to add your delivery and payment information to complete the entire process.
Is It Worth?
According to Sun Basket, they specifically use fresh, organic, healthy, and sustainable ingredients. These are not any average type of oven ready meals.
Plus, the company uses special packaging procedures for their meal kits. The best part is that Sun Basket has received the organic certification from the prestigious Department of Agriculture.
Sunbasket uses recyclable and compostable packaging. In addition to it, there are various other important things about this company that you must note.
For instance, their fishermen typically use low-impact fishing methods. Even more, all their farmers are specially trained and they practice sustainable crop rotation only. These farmers use various advanced water efficiency techniques.
Sunbasket has further highlighted that each of their meal options is free from all types of antibiotics and hormones. These meals are based on gluten free options and that's why they offer high health value.
One more thing, all their meals are developed by a renowned and award-winning chef, Justine Kelly.
Know More About Sunbasket
For all those people who are searching for healthy meal delivery service at an affordable price, Sun Basket's offerings will be apt. The company has recently launched a great sign-up offer for all new subscribers i.e. you will get a discount of $90 for the first four deliveries.
The good part is that you will have loads of choice options when it comes to budget-friendly meal plan options to try! These recipes cater to organic eaters and all those people who are looking for healthy and organic produce diet plans.
Sunbasket has successfully followed the footsteps of the original meal kit operation company, Blue Apron. For your quick note, Sunbasket has launched six years ago.
Since then, the company has successfully evolved into one of the best options for delivering reasonably priced and affordable healthy meal kits.
These meal kits are not only made of organic ingredients, but also they cater to all sorts of diet plans and nutrition options. That includes Sunbasket meal kits for vegetarians, along with various gluten free options.
On top of that, these recipes can adhere to people following keto and paleo eating plans.
Available Healthy Meals Options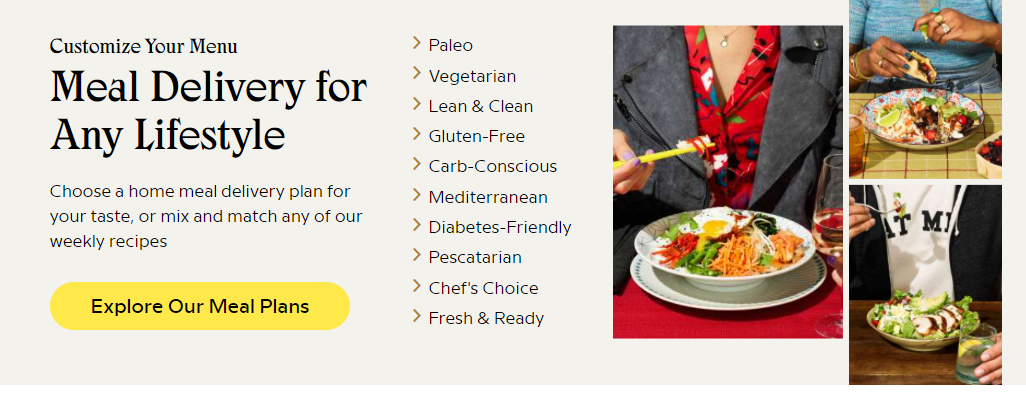 The company has come up with so many diverse meal plan options to cater to your food needs.
Paleo: These meals are indeed high in protein and they contain no diary, grains, soy, gluten, or corn.
Gluten-Free: These are all gluten free foods and they contain mainly wheat alternatives.
Carb-Conscious: These meal plans contain a maximum of 35 grams of carbs per serving. Great, isn't it? If you are looking for carb conscious diet plans, then this meal plan will be your ideal choice.
Diabetes-Friendly: If you or your family member is suffering from diabetes issues, then this diet plan is the most suited for you. All the recipes of this diet plan are approved by the American Diabetes Association.
Lean and Clean: These contain a range of whole foods and they have fewer than 600 calories every serving.
Chef's Choice: This meal plan contains a range of seasonal and healthy meals.
Quick and easy: These recipes can made in within 20 minutes. They are easy to make but very tasty.
Mediterranean: These contain whole grains, wild-caught seafood, healthful fats, and meats.
Vegetarian: These meals contain neither any poultry nor any seafood.
Pescatarian: These contain neither meat nor poultry. So, are they same as the Vegetarian diet? No, not at all. They contain wild-caught seafood.
Other options: Other meal plan options include Fresh & Ready plan, breakfast, and snacks.
Pros
Organic produce and contains clean ingredients
Excellent recipes directly from award-winning chef
Ingredients are pre-measured
Option to either get chef's choice recipes or choose your own recipes
Recipes will meet your special dietary needs (if any)
All nutrition information as well as cooking instructions are provided
All packaging will be recyclable and compostable
Cons
Sunbasket is not still able to provide their delivery service everywhere across the United States
Pricing is a bit on the higher side
Other Alternative Food Service Companies
Sunbasket is a quick meal delivery service that mainly prioritizes on both organic and sustainable options. The company provides various meal plans covering a range of diets. If you are still searching for other delivery companies, then you can refer to the following…
How to Place an Order with Sunbasket?
If you are now interested in ordering meals from Sunbasket, then please check this section and you will know how to place your first order.
i) Complete the signup procedure
ii) Select your preferred meals among the list of available options
iii) Provide your address and go for check-out
iv) You will need to place a prepaid order. For that, you can either use credit card or any other prepaid payment method
Things to Note…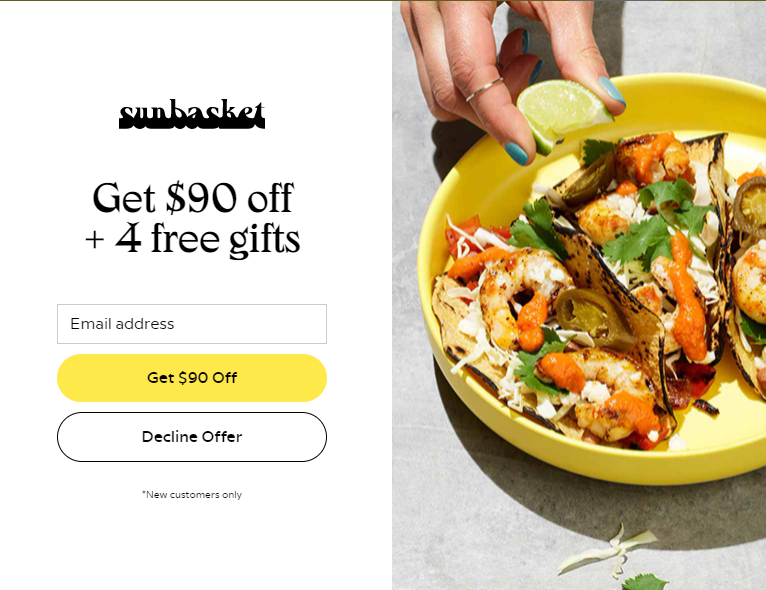 i) Before you place an order with this company, make sure to check whether this company is able to offer their food delivery services at your location. For that purpose, you will need to provide your current zip code and check if the delivery service is available.
ii) As mentioned already, there are a few promotional offers for the first time customers. For example, you will get $90 flat discount and free gifts on the first four delivery.
iii) There is free shipping option on your first box. Additional orders right after the first order will require a shipping fee.
iv) For any issues or problems, please feel free contact the customer service.
Bottom Line:
There are so many food subscription companies nowadays. Among them, if you are looking for a reliable one, then Sunbasket will be apt for you.
We have already revealed Sunbasket reviews before including how it works, available meal deliveries, menu options, if it is worth, and much more too.
What's more, the company has included a convenient subscription with no commitment. Plus, you are entitled to receive a 100% money back guarantee.
If you are not happy with the service, then you will need to contact the customer service team within 7 days of delivery and get your refund. Sunbasket has received excellent customer feedback and reviews.
So, please feel free to try its subscription in case you are interested about Sunbasket meals.