Welcome to our Super Greens Country Farms Review.
The supplement claims to be America's number 1 greens product.
Super Greens Country Farms is designed to boost your nutrient intake and it provides you a number of health benefits. For example, it claims to be a powerhouse drink mix. It further claims to supply your body with the right amount of nutrients.
This review will help you find out how legitimate these claims are, what you can expect from this convenient drink mix, and all other relevant information.
What Are The Claims?
Boost Energy Levels
Supports Immune Health
Enhance Nutrient Intake
Support Digestion
Support Optimal Health
Affordable price
Each serving delivers an advanced blend of fruits vegetables, antioxidants, nutrients, and more
Key Features
Contains 50 Organic Superfood
Dairy-free Probiotics
40 Calories per Serving
Rich in Antioxidants
Sugar Free
Absolutely Vegan
USDA Organic
Gluten Free
Can be used as a drink mix
What is Super Greens Country Farms?
The product is a superfood supplement powder that's designed to enhance your nutrient intake.
Super Greens drink mix contains 50 organic superfoods and is rich in antioxidants.  This is a powerful blend of nutrients that are designed to boost your energy levels, strengthen your immune system and improve digestion.
In the United States, most of the residents don't consume anywhere near the recommended amount of fruit and vegetables in their diet.
This can lead to a range of health problems and Super Greens powder will help overcome this problem.  It is an easy and effective way to get more nutrients into your diet and boost overall health.
It should be no surprise that greens powders don't have the most appealing taste.
This USDA organic powder comes in the original greens flavour but also has chocolate and berry options if you find this easier to consume.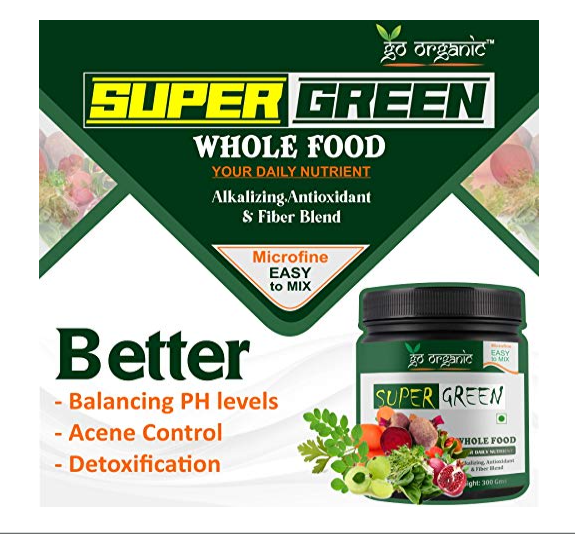 Who Are Country Farms?
This United States-based company was established in 1975 and located in West Caldwell, New Jersey.
The firm understand that people today live fast paced lifestyles and can struggle to find the time to buy and prepare a healthy balanced meal.
This fast paced lifestyle has caused an increase in the consumption of processed and unhealthy food.  That's why the company aims to bring products that can be incorporated into a busy schedule that help support a healthy lifestyle.
Please also note, the company uses organically grown non GMO gluten free whole foods that are widely known for their nutritional value. These non GMO gluten free foods have impeccable nutrition and health benefits.
Rest assured that the company takes product quality and safety seriously.  All the items (including Super Greens Powder) are manufactured in current Good Manufacturing Practices certified USA facilities and comply with rigorous FDA (food and drug administration) standards.
Quality control is an important part of the process and quality control professionals test the products at each stage of production.
Only when these tests have been carried out and approved is the finished product released for shipment.
Super Greens Country Farms Nutrition Facts
Super Greens contains a super food blend that includes organic greens, organic fruits and vegetables, dairy free probiotics, prebiotics and organic mushrooms.
The organic greens, fruits and vegetables provide a range of vitamins and antioxidants. Starting from offering an advanced nutrient rich formula to improving energy levels and immune health, this drink mix cum superfood supplement surely has no exception.
Know more about the health benefits of this wholefood drink mix in the below sections.
Super Greens Health Benefits
Antioxidants
Antioxidants help protect the body from oxidation and free radicals.  Free radicals are linked to a range of health problems such as cancer, diabetes and dementia.
This super food blend i.e. Super Greens powder is rich in Vitamins C, and Vitamin E which help protect the body from common diseases and strengthen the immune system.
Potassium
Country Farms Super Greens delivers an advanced nutrient i.e. it contains 200mg of Potassium per serving.  Many people do not get enough Potassium through their daily diet, which supports cardiovascular health, bone and muscle strength.
A deficiency in Potassium can lead to fatigue and weakness. Thus, this powerhouse supplement will treat cure or prevent all the above problems.
Dairy Free Probiotics
Probiotics are good bacteria that help your digestive system work effectively.
Country Farms Super Greens contains 100 million CFU's (colony forming units).  According to Harvard Medical School, the daily recommended dosage is between 1 billion and 10 billion CFU's several days a week.
So while this advanced nutrient rich formula doesn't contain many probiotics per serving, taken daily it could still be beneficial.
Fiber
The powerhouse supplement contains a fiber blend, which has a number of health benefits.   It helps maintain healthy bowel movements, lowers cholesterol, and can help in weight management.
Fiber helps maintain healthy blood sugar levels and helps you feel full.  This can prevent food cravings and feeling the need to eat more food.
Mushroom Blend
The organic mushroom blend is a good source of B vitamins and antioxidants.  It helps prevent cell damage and protects the immune system.
Drawbacks (If Any)
The main thing that we noticed when looking at the supplement facts and ingredients is how unclear the labeling is.
The Superfood blend states 10g but it does not show the quantities of the blends within this, or the individual ingredients.
While the ingredients are known to provide health benefits, it is impossible to know the extent of the benefits because the labelling does not indicate the quantities. (other than probiotics).
Customer Reviews
4.5 / 5 on Amazon
The customer reviews of the product are mostly very positive, with about 80% of the Amazon reviews giving 4 or 5 stars!
Most customer reviews mention that they find the product an effective way to increase the level of nutrients in their diet.
Negative reviews were rare but quite a lot of users commented that they did not like the taste.  For many, it did not stop them using the product, as they seem to accept that greens powders don't tend to taste very nice.
Does The Product Really Work?
Nowadays, finding the right food supplements have really been very tough as there are so many options available. Thus, you must be wondering if this product really works, isn't it?
We think it does.  Any supplement that contains a high number of superfoods is going to provide health benefits. It delivers an advanced nutrient like potassium. Other than that, each serving delivers an advanced blend of fruits vegetables, potent nutrients, fibers, antioxidants, and much more too. These super food ingredients will improve your immune health and boost energy levels.
Many customers have used the product for a long time and the product has been around for years which shows it has had some success.
Will Super Greens alkalizing whole food blend formula give you an edge?  Probably unlikely, not many users have commented on big noticeable improvements.  However, if you're looking for a supplement to increase your nutrients then this will do the trick.
Country Farms Super Greens Side Effects
We did not find any reported side effects of using the Country Farms Super Greens.
However, side effects from Super Greens powders' alkalizing whole food blend formula can involve an upset stomach.  This is rare but if you are worried you should always consult a medical expert before using the product.
Price
1 Tub (10.6oz) = $16-20 (depending on offers)
The Country Farms Super Green tubs contain 20 servings.  Most greens supplements contain at least 30 servings or enough for the month.  So a months supply will cost you around $30-$40.
This is still good value for money and is one of the cheaper priced superfood supplements on the market.
Verdict
Country Farms Super Greens is a popular product for a good reason.
It's an effective way to increase the nutrients in your diet and is made by a company that takes its product quality seriously. Super Greens powder boosts your immune health and even improves your energy levels. It will help you to treat cure or prevent many diseases.
The downside is the number of servings and the lack of transparency over the quantities of ingredients in the blends.  This makes it hard for customers to see what they're getting!
Other than that we can't complain with the price, this product is great value for money.
Other Superfood Supplements You May Be Interested In